Allergy clothing and accessories
Posted on May 24th, 2007 by Alison
Read 6 Comments - Add Your Own »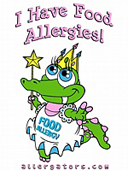 If you have a child with food allergies, you have probably had the uncomfortable (and scary) experience of people wanting to give your child food. It may have been a teacher at school, another mother or kid at the playground, or a store owner offering a piece of candy. If your child is old enough and well-trained, he will decline the offer, knowing that the food could make him sick, or worse. If your child is young (like mine), you can't be sure that the words "no thank you, I can't eat that" will be uttered every time, especially if it's a sweet treat. It is pretty easy to keep an eye out for a potentially unsafe situation when you are present, but what do you do when your child is on his own, say at daycare, school or camp?
There are a number of companies (most created by moms) out there that are solving that problem with wearable warnings and even fashionable ways to carry around medication. Here are some that I have found (and like!):
If you have any other allergy-wear that you like, please let me know!