Product Review: Cookies by Enjoy Life Foods
Posted on May 24th, 2007 by Alison
ADD A COMMENT »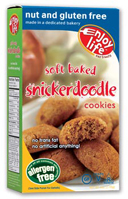 Rating:





Product description:
Cookies by Enjoy Life Foods:
Soft-baked packaged cookies in a variety of flavors
Free of the top eight common allergens, also free of casein, potato, sesame and sulfites
Vegan
Kosher Pareve
Made with natural sweeteners
Review:
Yum, yum, yum! These soft cookies come in many flavors: chewy chocolate chip, double chocolate brownie, gingerbread spice, happy appleâ"¢, lively lemon, no-oats "oatmeal", and snickerdoodle. It's truly amazing that they are free of so many allergens because they taste so good and the texture is satisfying. My favorite is snickerdoodle, with double chocolate brownie in second place and chewy chocolate chip close behind. I wasn't so thrilled with no-oats "oatmeal" and I haven't tried the others (but would like to!).
What I like:
That my daughter and I can eat a delicious cookie and not have to worry about ANYTHING!
That there is no corn – a lot of gluten-free cookies are made with cornstarch and I am not eating corn right now (you can read why if you want to know).
What I don't like:
The packaging – it makes a loud crinkling sound when I'm trying to sneak a cookie and I don't want my daughter to hear! And it's hard to get into to just grab a cookie.
Where to buy:
Whole Foods in California just started carrying a couple flavors. You can see a list of stores on the Enjoy Life website.
Allergen information:
From the website: "Our products are made in a dedicated nut- and gluten-free bakery in Schiller Park, IL. We've invested in a dedicated plant so that you can have the added confidence and assurance that you can eat Enjoy Life products without worries. We also require all of our ingredients to be certified allergen-free and perform routine testing to minimize the risk for cross-contamination and ensure ingredient quality. Our ingredient suppliers are required to complete non-contamination certificates for every ingredient that we purchase. Ingredients are additionally tested (based on the product) for gluten, casein, peanut and soy protein. Equipment is cleaned thoroughly after product and flavor changes following good manufacturing procedures. Finally, every Enjoy Life employee understands the severity of food allergies and intolerances and takes careful precautions to protect our customers."