Product Review: Organic Rice Divine by Good Karma Foods
Posted on May 9th, 2007 by Alison
Read 1 Comment - Add Your Own »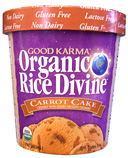 Rating:





Product description:
Organic Rice Divine by Good Karma Foods:
Non-dairy frozen dessert (ice cream) made from organic rice
Gluten-free
Vegan (which means no milk and no eggs)
Kosher
Supports green farming
Comes in pints, chocolate-covered bars and sundae cups – great for kids!
Review:
This rice cream is truly divine – so divine in fact, that I have a hard time not eating a whole pint at one sitting. Not only is it delicious, but it is gluten-free in addition to being dairy-free, which means that the chocolate cookie pieces in Mudd Pie and chunks of spice cake in Carrot Cake are gluten-free! No other ice cream that I know of can claim that.
On their labels it states "This product is manufactured on equipment that also processes products containing milk, soy, peanuts and tree nuts." I emailed the company to ask about any possibility of cross-contamination with gluten, dairy and nuts (soy is in the ingredients). Regarding dairy and gluten, the response was that there was no chance, that they check every product, every batch, twice — once when it is being "batched" and is still liquid, and once when it is a "finished good." Regarding nuts, they said there is no chance of nut cross contamination. All tanks, lines, and fillers, every part of the manufacturing process that touches the product, is tested for residue so there is no cross contamination between batches. Note that there are 2 flavors that contain nuts.
What I like:
It tastes delicious and not too rice-y
The texture is creamy and especially good after it has melted a little
It comes in many flavors: Very Vanilla, Carrot Cake, Mudd Pie, Mint Chocolate Swirl, Chocolate Peanut Butter Fudge, Coconut Mango and Banana Fudge
What I don't like:
I wasn't crazy about the Banana Fudge flavor
Where to buy:
Some Whole Foods carry it. Try a natural foods store, and if they don't carry it yet, request it.