Product Review: Smart & Delicious Gluten-Free Wraps by La Tortilla Factory
Posted on May 15th, 2007 by Alison
Read 5 Comments - Add Your Own »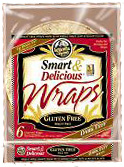 Rating:






Product description:
Smart & Delicious Gluten-Free Wraps by La Tortilla Factory:
Gluten-free tortillas
Non-dairy
Made with whole grain teff and millet flours
Zero grams trans fats
Non-aluminum baking powder
Kosher
No artificial sweeteners (uses a touch of honey)
Review:
A staple in my house these days is La Tortilla Factory's Smart & Delicious Gluten-Free Tortillas. Made from tapioca, teff and millet, these tortillas are gluten-free and dairy-free. They are large and can be used in place of flour tortillas — great for wraps and for burritos. If you have kids, these make for an easy packed lunch when filled, rolled and cut in half.
To use: I recommend microwaving the tortilla for 45 seconds to soften and make pliable. Then spread or fill with whatever you want and roll. If taking to-go, roll it in aluminum foil.
Ideas:
Turkey sandwich wrap: mayo, mustard, turkey, lettuce/tomato/avocado
Cream cheese sandwich wrap: cream cheese or non-dairy cream cheese spread, sliced veggies or lunch meat, lettuce/tomato/avocado
BBQ wrap: grilled chicken or steak, mayo and BBQ sauce (I recommend Daddy Sam's)
Hummus wrap: hummus + anything
Make a burrito or a quesadilla
What I like:
They are big enough to make a burrito!
They are an easy lunch to take on the go
They are high in fiber, iron and have calcium (important for dairy-free people)
What I don't like:
They are a bit stiff, so are hard to eat if not heated, which is why I am giving it 4 out of 5 stars. Also, when microwaved, they get a little wet on the bottom. Maybe I need to work on some other ways to prepare the tortilla.
Where to buy:
These are probably more readily available in California where they are made, but ask a natural foods store, or buy them online from La Tortilla Factory.
Allergen information:
I emailed the company: "Can you tell me how you ensure that there is no cross-contamination with the other flour tortillas that you make?"
They answered: "In order to ensure there isn't any cross contamination with our Gluten Free wraps and our Whole Wheat Low Carb tortillas we have completely separate areas in the warehouse where the raw materials are stored. Meaning GF is all kept in one area and the WWLC ingredients are kept in a different part of the warehouse. When the raw materials are all measured out for the dough they have there own separate measuring utensils that are only used for the Gluten Free wraps. We perform Gluten Free Sanitation Standard Operation Procedure (GF SSOP's) on the production line, they will be made on, the night before and a detailed pre-op inspection is conducted prior to running GF products on the line. Also, during the production of the GF products we test it up to 10ppm. If the GF and WWLC are run on the same production line then GF is made first then the WWLC. All of this is done to ensure that our GF products really are GF. Plus, our plant is certified Gluten Free by GFCO. All inspections are unscheduled (no previous notification) at least once a year."