Quinoa for Beginners
Posted on May 18th, 2007 by Alison
Read 8 Comments - Add Your Own »
Don't be afraid of quinoa just because you don't know how to pronounce it! Let's all say it together: "KEEN-wa". By george, I think you've got it!
Whenever I serve quinoa to guests, people rave about it (which is fun, especially because it is so easy). Most people have never eaten quinoa and certainly would never attempt to make it, which is too bad because quinoa is yummy, healthy and easy to make! It has a light and fluffy texture that makes it a wonderful complement to any main course – try it with dinner instead of rice. My daughter loves it (and it's funny to hear a 2.5 year old ask "can I have more quinoa please?")
What is it? Quinoa has been called a "super-grain" because it has more protein than any other grain, and is a complete protein (similar to milk). It is high in iron, magnesium and is a good source of dietary fiber. It is also high in lysine, methionine and cystine and is easy to digest. There is no downside to eating quinoa!
How to cook it? Quinoa cooks like any other grain – you simmer it in liquid until the grain absorbs it. If you buy boxed quinoa you can follow the directions on the box. Some boxes say to rinse it first and some don't. Quinoa naturally has a bitter coating that needs to be removed before it is edible, but most companies that sell quinoa have already done this so you don't have to. I recommend mixing the white quinoa with the red quinoa. When cooked, the white quinoa pops and becomes fluffy, while the red maintains a little crunch – it makes for a great texture.
Here is the mix of raw quinoa grains in the pan: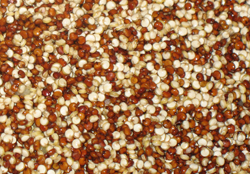 And here are the grains after cooking (notice how the white grains have "popped"):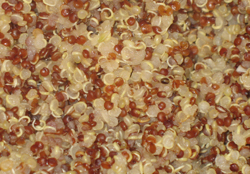 And now for the recipe that garners the raves:
Put some olive oil (1 tbs) in a soup pan .
Crush some garlic (1-2 cloves) and cook it in the olive oil for a few minutes.
Pour 1/2 cup white quinoa and 1/2 cup red quinoa in the pan and coat with oil. You can cook the grains in the oil for a few minutes to give it a little toasted flavor, or you don't have to.
Add 2 cups of water and 1/2 teaspoon salt. This salt ratio (1/2 tsp per cup raw quinoa) is very important, so don't eyeball it!
Bring to a boil, reduce heat, cover and simmer until liquid is absorbed, about 10-15 minutes. Use a fork or spoon to fluff the grains. Serves 4 people as a side dish.
Isn't that easy? Now go make some quinoa and let me know how much you love it!
Read about other great gluten-free grains.