Why are my kids gluten-free?
Posted on May 30th, 2007 by Alison
Read 4 Comments - Add Your Own »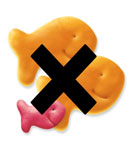 Both my daughters (age 2.5 and 9 months) have been gluten-free their whole little lives. People ask me "Do they have celiac disease?" "Why do they have to be gluten-free?" "When will you get them tested?" Sometimes I feel a bit on the defensive – I am sure that some people think that I am "imposing" my diet on my children, depriving them of graham crackers and goldfish for no good reason.
Here are what I think are some good reasons:
Each of my daughters has at least one main gene for celiac disease, and possibly two (I'll draw you a chart later!) While this does not mean that they will definitely develop celiac disease, they have a predisposition to develop it.
People with celiac disease are at an increased risk of developing other autoimmune conditions.
In order to test for celiac disease, a person has to be consuming gluten.
The gluten-free diet is a healthy diet because most junk foods are off limits.
Much of my family is gluten-free, including my husband and nearby grandparents.
So, why would I give my kids gluten? Maybe in the future, they will eat it. But for now, during this crucial developmental time, I feel that the possible negative effects of them eating gluten far outweigh the social challenges of keeping them gluten-free.
Wait – I didn't say it was easy! But it is doable. For help, read our newly-added Gluten-Free Babies and Kids page.