Free-from-Everything Bread
Posted on June 21st, 2007 by Alison
Read 2 Comments - Add Your Own »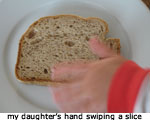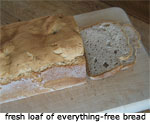 Would you believe a bread with a delicious taste and wheat-like texture could be made without gluten, corn, dairy, soy, rice or eggs? Believe it, because I made some yesterday!
I have been a fan of Breads from Anna bread mixes since I first tried them in 2004. They make a great loaf that rivals a wheat bread. I had been using the "Gluten, Soy and Rice Free Bread Mix", but stopped making it when I stopped eating corn, and when my daughter was diagnosed with egg and dairy allergies.
Anna makes another bread mix called "Gluten, Corn, Dairy, Soy and Rice Free Bread Mix", which solves most of our problems, except the eggs. Yesterday I decided to try an experiment. I used Ener-G Egg Replacer for the eggs called for in the bread mix. The mix calls for 2 eggs + 1 egg white to equal 2/3 to 3/4 cup liquid. I mixed the equivalent of 4 eggs with the egg replacer to equal 2/3 cup liquid. And voilá! A perfect egg-free (and everything-else-free) loaf!
On the lunch menu today: turkey sandwiches – almost makes me forget about all the stuff we can't eat.
If you are not feeling confident in your bread-making abilities, read How to Make Gluten-Free Bread. A gluten-free loaf is better than none!