Gelato for all
Posted on June 18th, 2007 by Alison
Read 2 Comments - Add Your Own »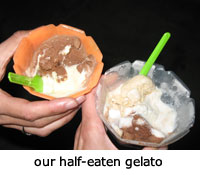 For people who have food allergies or celiac disease, walking up to an ice cream counter and asking about the ingredients in each flavor can be a discouraging experience. Either the person behind the counter will have no idea what the ingredients are, or everyone working there will be too busy to give any information, or there won't be any flavors that are safe to eat.
Last night I had no such experience. When my friend and I walked into a bustling gelato shop called Gelateria Naia in North Beach in San Francisco, I was prepared for the usual back and forth with the employee behind the counter. But then I noticed something — color-coded tags on the gelato flavors. Brown for soy gelato (dairy-free), green for whole fresh fruit gelato (dairy-free) and red for the regular (dairy) flavors. This tipped me off that there might be an allergy awareness here.
I then asked the scooper if she had a list of ingredients. She retrieved a folder, and while she didn't hand it to me, she was able to tell me if the flavors I was interested in were gluten-free (most were). I ordered 4 flavors (I could have ordered 6 since I got the biggest size bowl!) What a pleasant and easy experience that was! I wasn't made to feel like an annoying customer and the employee even seemed proud that she could help me.
I called the company today and spoke with one of the creators of Naia, Chris, who told me that they label their flavors (if someone were to ask) with the following: gluten, dairy, soy, nuts (includes peanuts), eggs, seeds, alcohol. I suggested that they make an allergy chart that they can hand out and/or put on their website.
They have other stores in Berkeley, Castro St. in SF, and Walnut Creek, and a "Lounge" on the UC Berkeley campus.
Delicious gelato, unique flavors and allergy awareness – what more could we ask for? (gluten-free cones?)