Lollipop, lollipop, allergy-free lollipop!
Posted on June 13th, 2007 by Alison
Read 2 Comments - Add Your Own »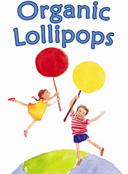 We just got back from a family vacation where we took the kids to dinner with us every night. The baby was easy – she slept in her stroller, and my almost-3 year old daughter was great for the most part, but when the dinner lingered on, she became restless as little kids normally do.
That's when I pulled out the never before seen or tasted lollipops. My daughter had never really had lollipops before, partly because she was too young to handle them, partly because I didn't want her to know that candy existed (lost that battle!), and mainly because I hadn't found a lollipop with ingredients that I felt comfortable giving her. Until now!
I am so excited to have found Yummy Earth Organic Lollipops for the following reasons (in no particular order):
They are delicious.
They are: Certified Organic, 100% Natural Colors, 100% Natural Flavors, Real Fruit Extracts, Allergen-free, Gluten-free, Casein-free, 100% Vegan, GMO free, Egg-free, Soy-free, Nut-free, Wheat-free, Dairy-free.
They are a great size for kids.
They were created by 2 dads.
They have tapioca syrup instead of high fructose corn syrup.
They are colored with things like cabbage and Japanese purple carrots instead of red dye #whatever.
I like candy.
There are also candy drops available if you think that sucking on a lollipop doesn't look very grown up!
I bought mine at Whole Foods, but they are also available on my Amazon store.