Cashews cause more severe reaction than peanuts
Posted on July 21st, 2007 by Alison
Read 10 Comments - Add Your Own »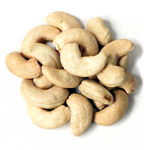 A new study in the European medical journal Allergy found that children with cashew nut allergy had more severe reactions than children with peanut allergy. Wheezing and cardiovascular symptoms were reported more frequently in the cashew-allergic children.
I think this study is important, not to downplay peanut allergy, but to bring awareness to other nut allergies as well. When I say that my daughter is allergic to cashews, people are surprised. I still see peanut butter on the playground every time I go there, and wonder how we are going to ever solve the problem of the rise in nut allergies and the presence of nuts in our society. The best solution is to get rid of food allergies of course, and researchers are working on that (if you want to help, consider donating to food allergy research).
But until that happens, I just hope that society will become more aware and compassionate about food allergies – yes, they exist and no, we aren't making it up, and yes, it's really really hard and no, we don't want to impose on you, but *sigh*, please try to understand!