My favorite sunscreen
Posted on July 9th, 2007 by Alison
Read 8 Comments - Add Your Own »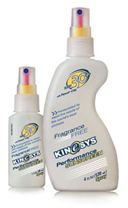 Before I begin raving about Kinesys sunscreen, I must disclose that my husband works for the company. BUT, I will also tell you that he sought out the job after we became huge fans. In fact, he didn't tell me he was even thinking of working for Kinesys until after he brought a bunch of it on one of our vacations to see what I thought of it. I liked it. No, I loved it. And I won't be using another sunscreen on myself or my kids.
Why is Kinesys sunscreen so great? Since this is a website about allergies, I will first mention that I am someone who is very sensitive to fragrance. The fragrance-free version does not offend my nose or make me feel itchy. As a parent of skin-sensitive children, I am happy to report that neither child has ever had a rash from it, even after using it for 8 days straight.
Aside from the allergy-free experience I have had with this sunscreen, I simply have to say that the feeling of the sunscreen is like no other. It sprays like a mist on your skin, with no alcohol smell or overpowering coconut aroma. You know how at the end of the day of lathering sunblock on your body, you just want to take a shower to get it all off? Not with Kinesys – you don't even feel like there is anything on. But yet, we have never had a sunburn while using it. The key is to re-apply.
What more can I say? A lot actually, but if you really want to know more, just go to the Kinesys website and see for yourself! You can also look there to see where Kinesys is sold. Oh, one more thing – readers of this website get a special discount at the Kinesys online store! Enter surefoods20 for a 20% discount. Enjoy the sun!
Updated 7/18/07: In response to a reader's question in the comments below, Kinesys states that their products are free of peanuts, nuts, sunflower and gluten. The production facility does on occasion make one product that uses traces of
macadamia nut oil. This production is infrequent and the cross contamination protocols are such that there is virtually zero chance of any kind of contamination.