Where are the GF restaurants in SF?
Posted on July 26th, 2007 by Alison
Read 9 Comments - Add Your Own »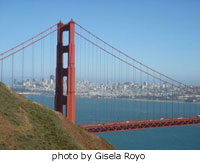 Yesterday an article came out in the New York Times called "For the Gluten-Averse, a Menu That Works." The article talks about all the New York City eateries that are creating gluten-free menus. Not only have these restaurants made people with celiac disease and gluten intolerance very happy people (what city couldn't use some more smiling faces?), but they have all seen a spike in business since offering gluten-free menu choices.
Here in San Francisco, we are supposedly cutting edge when it comes to food, yet there are no restaurants that I know of in San Francisco that cater to the gluten-free crowd. The national chain restaurants P.F. Chang's, Outback Steakhouse and Carraba's Italian Grill all have gluten-free menus but no locations in SF, only outside. The only independent restaurant I know of in or near the Bay Area that has an extensive (and intentional) gluten-free menu is Mangiamo in Windsor, located about 60 miles north of SF. In Berkeley, there is Pizza Rustica that has gluten-free pizza crusts made by the "I Can Eat That" Bakery. While they will cook it on a separate surface if requested, they cannot guarantee that there will be no cross-contamination from airborne flour in the kitchen. Mariposa Baking Company, known for their delectable gluten-free brownies and biscotti, has opened Cafe Mariposa and Bakeshop in Oakland. Initially they are serving gluten-free (and some dairy-free) baked goods along with beverages, and plan to add more items to the menu.
Is that it? If anyone knows of any other restaurants in the Bay Area that intentionally cater to the gluten-free crowd, please post your comments here. (For those of you planning to visit SF and must dine GF, don't worry – there are many great restaurants here that can accommodate your needs if you communicate with the waiter and chef.)
Lucky New Yorkers!