Gluten-free focaccia (Italian pizza bread)
Posted on August 22nd, 2007 by Alison
Read 2 Comments - Add Your Own »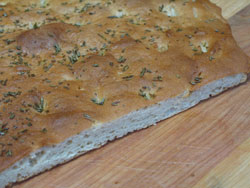 Pamela of Pamela's Products sent me this recipe for Focaccia using her Amazing Wheat-Free Bread Mix. I have now made several times with success. Below is the recipe as she sent it to me, and then I added my own suggestions. This bread is gluten-free, dairy-free, egg-free and soy-free.
Pamela's Focaccia (Italian Pizza Bread)
1 bag Pamela's Wheat-Free Bread Mix
1 yeast packet (enclosed in mix)
1 teaspoon sugar
1-3/4 cup warm water
1/4 cup olive oil (plus for the pan and sprinkling on top)
Combine yeast packet, sugar, and 1/4 cup warm water. Let foam for 5 minutes. Add olive oil, remaining 1-1/2 cups warm water, and Pamela's Wheat-Free Bread Mix. Mix for three minutes. Put in a pan greased with olive oil, sprinkle top of dough with olive oil to help spread it in the pan, spread to sides until dough is approximately 1/4-inch tall. Rise for 1 hour. Bake in a preheated 400º oven for about 20 minutes or until brown. Great for sandwiches. Slice lengthwise.
Optional: Before baking add salt and green onions, or sun dried tomatoes, olives and goat cheese, whatever you like.
Pamela's Note: Do not skimp on the olive oil. If you've never had Focaccia before, the olive oil should come off on your fingers while you eat it!
Alison's suggestions:
The pan – I found the best way to do it was to spread the dough on parchment paper on a baking sheet. Mine was a big oval shape. The bottom won't get crispy, but you are guaranteed to get it off the pan without sticking. I dipped my spatula into a plate of olive oil to help spread it.
Toppings – everyone's favorite was chopped fresh rosemary and salt (I use coarse salt or sea salt). I also tried topping the focaccia with pizza sauce – bake halfway before adding the tomato sauce so it doesn't get mushy.
Storing/serving – the focaccia is the best when eaten the same day it is baked, as it will lose its crisp as it sits. Then just toast it or re-bake it in the oven.
Doubling – I mixed 2 mixes in my KitchenAid stand mixer to make 3 big focaccia breads.
Overall, the focaccia bread was a hit with everyone who tried it. This is also good as "fancy" sandwich bread – try it with grilled sausage (cut lengthwise in half), as I did – yum! Thank you Pamela!
Related post:
Product Review: Pamela's Amazing Wheat-Free Bread Mix