Rice Dream says it's now gluten-free
Posted on August 25th, 2007 by Alison
Read 12 Comments - Add Your Own »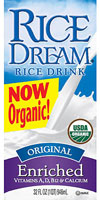 I picked up a box of Rice Dream non-dairy beverage (rice milk) at the grocery store yesterday and after years of warnings from fellow celiacs not to buy Rice Dream because it contained barley, I was surprised to find that it is now labeled gluten-free.
I called Rice Dream, which is part of Hain Celestial, which owns so many brands that they have customer service reps who sit there all day and read statements from their computers to answer consumers' questions. Anyway, to get to the point: According to the customer service rep, Rice Dream has not changed their recipe. They now test "each batch" for gluten and say that the barley enzyme content is so small that the product can be considered gluten-free.
Currently, there is no U.S. standard for labeling something gluten-free, although it is in the works. You can read about the U.S. Food and Drug Administration's proposed gluten-free labeling rule. For information about current worldwide gluten-free standards, see celiac.com's explanation.
I have now idea what standards Rice Dream is using, but now that it is labeled gluten-free, I guess I will buy it…? I am a little hesitant, but I like that it is easy to find in stores and that they have lunch box sizes to take on-the-go. Plus, there are lots of flavors, like vanilla, chocolate, carob (for those that can't have chocolate), vanilla hazelnut and chocolate chai.
Note: The gluten-free label is only on the beverages. Some flavors of Rice Dream frozen desserts have gluten – check the label.