Animal cookies for the allergic child
Posted on September 26th, 2007 by Alison
Read 7 Comments - Add Your Own »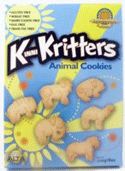 All is quiet in my house this afternoon… ahhh. But wait — something is amiss, for I have a 3 year old, not napping, somewhere around here. I eventually find her in the pantry, where she turns to look at me with a guilty (but cute) little face. She is holding what is left of a box of animal cookies. And that is my testimonial for the KinniKritters Animal Cookies made by Kinnikinnick Foods in Canada.
Not only are they gluten-free, dairy-free, egg-free and free of soy flour (they do contain soy lecithin), they are shaped like animals, as animal cookies should be, and they are tasty. I used to give her the Envirokidz Vanilla Animal Cookies (which are square by the way), and they are yummy, but contain soy flour. As I am now removing soy from her diet, I was thrilled to find KinniKritters, and even more thrilled that she loves them. She rarely even gets cookies, but at least I have these for those necessary occasions (you know — bribes).
Where to buy? If you can't find them in a store near you, try Allergy Grocer or Glutenfree.com.
Ingredients: Sugar, pea starch, potato starch, palm fruit oil (non hydrogenated), white rice flour, tapioca starch, water, glucose, pea protein, sodium carboxy methylcellulose, vanilla flavor, salt, pea fibre, guar gum, inulin, ammonium bicarbonate(90), sodium bicarbonate, soy lecithin.