Whole Foods new gluten-free baking mixes
Posted on September 24th, 2007 by Alison
Read 25 Comments - Add Your Own »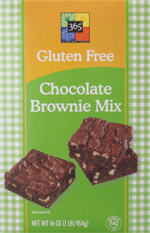 Good news! Whole Foods has released their 365 Everyday Value Gluten Free Baking Mixes for people with celiac disease or gluten sensitivity. Some of the new products are sandwich bread mix, pizza crust mix, white cake mix, chocolate cake mix, brownie mix, muffin mix, and pancake/waffle mix.
This is a private label product which means that Whole Foods contracts an outside manufacturer to make the products and package it as Whole Foods brand. On one celiac forum, someone said that they confirmed with their local Whole Foods store that the mixes are produced by Gluten-Free Pantry for Whole Foods. When I emailed the corporate office of Whole Foods asking if the same, the response was this: "…the identity of these manufacturers is proprietary information. The manufacturer produces for their own brand as well as for other companies. Divulging this information is a breech in contract and jeopardizes the integrity of the manufacturer and their clients." I actually don't agree that anything is being jeopardized here – in fact, people are happy to have Gluten-Free Pantry's mixes more available and at a lower price.
I am hoping that the 365 Chocolate Brownie mix is the same Gluten-Free Pantry Chocolate Truffle Brownie Mix which is my favorite gluten-free brownie mix. The ingredients seem to be the same, just listed in a different order. If anyone has any positive or negative experiences with these mixes, please add comments.