How to have an allergy-free Halloween
Posted on October 9th, 2007 by Alison
Read 11 Comments - Add Your Own »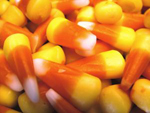 This will be the first Halloween that my daughter goes trick-or-treating. We'll probably only go to a few neighbors' houses, but there is also a Halloween parade down a main street where the shop owners give out candy. As a parent of a child with food allergies, I am feeling a little anxious about monitoring every piece of candy that she receives. I imagine other parents are feeling the same way.
So, I've come up with 4 approaches for how we can make Halloween enjoyable for our little ones:
1. The Go-With-the-Flow Approach
How it works: Let your child collect candy and then investigate which pieces are safe and which aren't.
Pros: You don't have to do any planning ahead of time.
Cons: What if none of the candy your child receives is safe? Also, this can be time-consuming – will your child wait patiently (ha!) while you check the ingredients?
2. The Fair Trade Policy
How it works: Buy a variety of safe candy ahead of time. Let your child collect candy and then trade unknown or unsafe pieces for the safe ones.
Pros: Your child gets the fun of trick or treating, doesn't stand out from the crowd, and feels like it is fair that they get the same amount of candy that they collected.
Cons: Your child has to be trusted to not eat any unknown or unsafe candy until he/she can make the trade with you.
3. The Community Outreach Program
How it works: You supply candy or a list of safe candy to the houses that you will be visiting.
Pros: This is good for little kids that may only be visiting certain neighbors and friends. You don't have to worry about him/her eating something that is not safe.
Cons: This won't work for older kids who are out with friends and visiting many houses, you have to go around to people's houses ahead of time, and you have to trust your neighbors to remember.
4. The Just-Say-No-to-Candy Campaign
How it works: Sounds extreme – candy is evil! – but it just means offer non-food treats, like little toys, stickers, etc. This can be done in conjunction with The Fair Trade Policy, or with The Community Outreach Program.
Pros: No need to worry about ingredients, kids love little toys
Cons: Kids probably love candy more than toys! But perhaps given the choice, they may pick toys over candy some of the time, which can help.
Resources to help you have a safe Halloween:
There are many companies producing nut-free candy:
Looking for dairy-free chocolate?
And don't forget the allergen-free lollipops!
Here is a list of non-food treats from a page from the National and Community Service website about making Halloween more inclusive for kids with diabetes and other health concerns:
Temporary tattoos
Stickers
Pencils
Fancy erasers
Pencil toppers
Crayons
Coins (pennies, nickels, dimes)
Small novelty toys
False teeth
Superballs
"Slime"
Miniature magnifying glasses
Plastic jewelry/decoder rings
Necklaces
Glow-sticks
Tiny decks of cards
Plastic medals
Fake money
Origami paper & instructions
Bubbles
Well, I feel better now and I am looking forward to taking my little pink fairy door-to-door for some Halloween treats!
How will you make sure your Halloween is safe?
Related articles:
Halloween candy for kids with food allergies
Gluten-Free and Allergen-Free Candy Quick List