What my family eats for breakfast
Posted on January 18th, 2008 by Alison
Read 6 Comments - Add Your Own »
People ask me all the time, what do you guys EAT? They are referring to the fact that I have celiac disease and cannot eat gluten and my older daughter has other food allergies and intolerances including nuts, eggs, dairy and soy. I'm not saying that it's easy to accommodate our special diets and to find foods that we not only can eat, but that we also like. But I'm saying it can be done.
I mean, does this look like a deprived kid to you?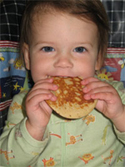 This is my younger daughter enjoying a gluten-free, dairy-free, soy-free, egg-free pancake. I make them out of Authentic Foods Baking and Pancake mix using Ener-G Egg Replacer. I have found that these pancakes come out the fluffiest out of the ones I have tried without these allergens. They have a bit of a different taste because the mix is made of bean flours, but my daughters love them.
My kids also eat for breakfast: cereal with rice milk, cream of buckwheat cereal with honey, gluten-free bread with jelly and/or Sunbutter, homemade muffins, fresh or canned fruit, and bacon (they loooove bacon).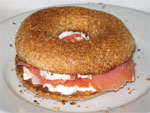 My husband (who is also gluten-free) and I have more choices and our current favorite is bagels and lox. We can find Kinnikinnick or Glutino bagels (either refrigerated or frozen) in stores in our area, so I toast them and then spread them with cream cheese and store-bought smoked salmon. While it's not the Noah's bagel I used to eat (and then suffer a stomach ache) before my celiac diagnosis, it does satisfy a bagel craving.
I also eat for breakfast: gluten-free oatmeal, toast with Sunbutter, homemade waffles, fresh fruit, or bacon (yeah, me too).