Baking without eggs
Posted on February 25th, 2008 by Alison
Read 4 Comments - Add Your Own »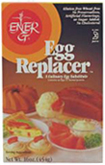 My daughter breaks out in hives if she has eggs. Actually, I don't think she does if it is in a baked product (which she did eat one time by accident), but the allergist said that her best chance of outgrowing her egg allergy (fingers and toes crossed!) is to never eat eggs in any form. So, in addition to baking without gluten, dairy and soy, I can't use eggs. Honestly, the other things wouldn't be so hard, but not being able to use eggs in baking makes it extra-super-duper… uh… fun? (Trying to stay positive here.)
Luckily for me and anyone else who cannot tolerate eggs, there is Ener-G Egg Replacer! This is going to sound like an ad for this product, but I assure you I get no kick-backs (I wish). I write this post purely out of gratitude and amazement that this actually works. I don't know how it works, but it does, even with my gluten-free, dairy-free and soy-free stuff, including cookies, cakes, muffins, bread, pancakes and waffles.
Now there are a lot of egg replacer recipes out there, but I don't really want to add mashed bananas to everything I make and I don't have time to grind flaxseeds to a fine meal and then simmer them in water.
So, here's what I do with the powdered Egg Replacer:
I use more egg replacer than called for by putting in heaping teaspoons rather than leveled off teaspoons.
I add warm water and use a whisk as I add the water – there are absolutely no lumps.
I whisk the egg replacer and the water until it is frothy.
I always use it right away – I don't let it sit and if I do, I re-whisk it first.
I don't know if this way of using it makes it better, but this is how I do it and it ALWAYS works in my baked goods. There are other brands of powdered egg replacer: Organ No Egg Natural Egg Replacer (gluten-free) and Bob's Red Mill Egg Replacer (contains soy and gluten), but I haven't tried them. If anyone has had success with these as well, please comment and let us know.
Related reading: Egg-Free Guide