Dairy-free, soy-free margarine?
Posted on February 10th, 2008 by Alison
Read 38 Comments - Add Your Own »
Dairy-free, soy-free margarine does not exist to my knowledge. Most baking recipes call for butter or margarine, and Earth Balance Buttery Sticks or Shortening Sticks work great if you can tolerate soy. (Buttery Sticks contain soybean oil and soy protein, Shortening Sticks contain soybean oil.) But what is a dairy and soy-intolerant person to do? UPDATE 3/19/09: Dairy-free soy-free buttery spread is available!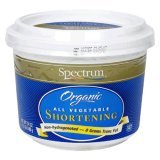 I have been using Spectrum Naturals Organic Shortening which is non-hydrogenated palm oil. It has worked for me in baking recipes that call for butter or margarine. I follow the Joy of Cooking (my favorite cookbook for learning the basics) substitution recommendation for shortening in place of butter:
for 1 cup of butter (2 sticks) replace with 3/4 cup + 2 tablespoons of shortening
So far, my cookies (gluten-free, egg-free, dairy-free and soy-free) have turned out with a light and fluffy texture and taste really good! (You don't really taste the shortening at all.) I was so happy to discover this product when I cut soy out of my daughter's diet in addition to gluten, dairy and eggs! Yippee!
Look for Spectrum shortening at a natural foods or health foods store, or you can buy it on Amazon.