Get thee to Mariposa Baking Company
Posted on February 7th, 2008 by Alison
Read 3 Comments - Add Your Own »
A hot slice of pizza topped with the special of the day, a toasted bagel with cream cheese, a rich fudgey brownie, a coconut lemon square, coffee cake, a bite of biscotti. These are some of the delights that you can savor if you pay a visit to Mariposa Baking Company in Oakland, CA. Oh yeah – and did I mention that it is a completely dedicated gluten-free bakery?
Patti Furey Crane started Mariposa after being diagnosed with multiple sclerosis. When she cut gluten out of her diet in an attempt to deal with the MS, she realized that gluten had been making her sick for 10 years and exasperated her MS symptoms . When I asked her if eliminating gluten has helped the MS, she replied, "I'm not on any medication for MS and have no symptoms now — though I do have an occasional flare-up that reminds me to slow down, eat well and reduce stress." (Read more on the connection between MS and diet and a study that showed increased antibodies to gluten in MS patients)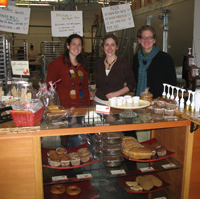 You don't even have to be gluten-free to find that everything in this bakery is delicious. Mariposa began with brownies and biscotti. Now there are all the things I mentioned above plus cookies, little loaves of bread, and sometimes (if you're lucky!) perfectly seasoned croutons. You can buy a frozen pizza crust and make your own pizza at home. Unlike other gluten-free crusts, it is not mealy or doughy or overly chewy — it is a thin crust with the right amount of crunch (bake it to your preference).
Mariposa Baking Company is located at 5427 Telegraph ave, Unit D3 in Oakland, California. Telephone number: 510.595.0955. But you also might find Mariposa products at a store near you.