Martha Stewart magazine for people with food allergies
Posted on February 3rd, 2008 by Alison
Read 5 Comments - Add Your Own »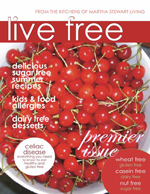 Yes, it's true — Martha may soon publish a magazine for people with celiac disease, gluten intolerance and food allergies!
YOU can help make it happen by voting on her blog for the Big Idea, a staff competition at Martha Stewart Living Omnimedia. It looks like the allergy-free magazine is the clear winner so far (you can see the percentages after you vote).
So go vote! And, you can vote every day until the competition ends on February 7.
If you are looking for a magazine about living with food allergies, I highly recommend Living Without magazine.
Update: See what happened!