Share an allergen-free recipe (alternate title: Who needs Martha?)
Posted on February 18th, 2008 by Alison
ADD A COMMENT »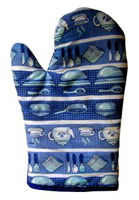 I have put recipes and cooking tips on this website, but I know that people want more! So I am asking you, beginning and advanced cooks alike, do you have an original allergen-free recipe (free of gluten and/or other top allergens) that you would like to share on this website? Whether simple or complex, do you whip up something that others with celiac disease, food allergies or intolerance could enjoy?
If so, please participate in this little thing I am calling the "Who needs Martha allergen-free recipe exchange"!
Email the recipe to me by midnight March 2 and I will post it along with your name and (if you wish to send) a picture of either the food you created or you or your family.
If you write your own blog, this a blog event! Post your recipe on your blog by midnight on March 2nd. Please mention this event and also include a link back to this post. Then, email me at alison@surefoodsliving.com and include your name, blog name and permanent link to your post. I will do a roundup of all the recipes posted.
If you share my disappointment with Martha, let's make something good out of this and help each other out in the kitchen!