Gluten-free Crockpot recipes
Posted on March 30th, 2008 by Alison
Read 6 Comments - Add Your Own »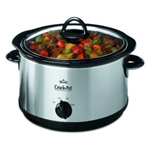 Do you have a Crockpot? (I don't). Do you want to get one? (I do!)
Why do I want a Crockpot? Because I have found a hilarious blogger called the Crockpot Lady. On her blog she has vowed to use her Crockpot EVERY DAY for a year. And bonus — almost all the recipes are gluten-free!
She has made everything from pasta, to fish, to bread, to bananas foster, to rice krispy treats in this throw-back appliance! I have got to get one soon. (Birthday coming up in May, if anyone is curious…)
Really, whether you are gluten-free or not, visit A Year of CrockPotting — you will enjoy the recipes that make your life easier, and you will laugh as you read them!