My journey to India (and a diagnosis)
Posted on March 11th, 2008 by Alison
Read 9 Comments - Add Your Own »
When I was on my honeymoon in India, my stomach never felt better. Most people would think that you might get sick eating the food in India, but for me it was the best that I had felt in a long time. I know now that it was because I was eating almost entirely gluten-free for 3 weeks, without knowing it. The Indian diet, aside from the breads (naan, roti and chapati) and some snacks, is gluten-free. Rice, chickpeas and lentils, and flours made from all of these, are used in much of their food.
When I returned home, my stomach problems became worse than they had ever been — of course, because I was eating American gluten-laden food again! At the time I chalked up it up to stress at work, although I really wasn't stressed at all, but I had no other conclusion. Right before my wedding, I had a bone marrow exam because of my severe anemia. I delayed calling the doctor for the results until I came back — I figured if it was cancer, I didn't want to know about it before my honeymoon. Luckily, it wasn't, but the doctors still didn't know what was ailing me. 2 months later I was diagnosed with celiac disease. I do believe that trip to India helped me get to that diagnosis sooner.
Needless to say, I love Indian food! While I was there, my husband and I took a cooking class from an Indian woman named Nimmy Paul in her home in Kerala, India. Here I am making palappam which are "lacy rice pancakes" (but these also contain a little semolina or cream of wheat).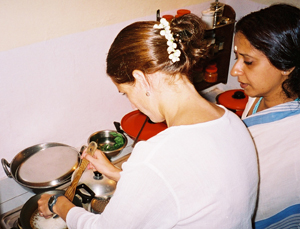 In addition to the main dishes, the dal (lentils) and the rice, there are lots of other foods that are gluten-free and can be found in an Indian grocery or online. Indian people are probably the nicest people on earth, so go ahead and wander into a restaurant or market and ask for help!
Here are some of my favorites:
Papadum (there are a lot of different spellings for this word) – this thin crispy wafer is usually made from lentil flour and spiced with chili or black pepper. It starts as a round hard disc and when fried in oil, puffs up (great entertainment for the kids!) If you want a less oily version, you can microwave it until it puffs up – it won't be a crispy as the fried one, and a little chewier, but still good. I found these mini plain versions, which also contain rice flour. They are a great size for kids and have no spice except salt. I love these and my 18 month old loves them too!
Papadum before and after frying: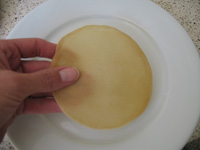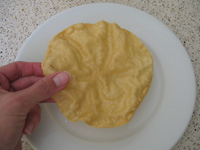 Dosa – these are thin pancakes or crepes from lentil and rice flour that are usually served with sambar, which is like a stew. I loved having these for breakfast in South India. You can buy a Dosa mix and make your own! (Stay away from maida dosa or rava dosa, which contain wheat.)
Idli – these are little flying-saucer shaped cakes made from black lentils and rice. They are also served with sambar or chutney. There is an Idli mix you can buy, but you also need an idli steamer (Stay away from rava idli, which contain wheat.)

Snacks – many are made with chickpea or rice. Watch out for the spicy ones! The chips shown are made from chickpea flour.
Tip: When checking ingredients, don't worry if you see the word "gram." This is not the same as our word graham, which is wheat. Gram means a lentil or chickpea (garbanzo bean). For example, black gram (also called urad or urad dal or udad) is a black lentil and is gluten-free. Gram flour, or chana flour, means chickpea flour.
Beware of other allergens: nuts and dairy are used in Indian cooking.