Recipe Share: Best Gluten Free Pound Cake
Posted on March 7th, 2008 by Alison
Read 5 Comments - Add Your Own »

Best Gluten-Free Pound Cake
Gluten-free, nut-free, soy-free (depending on flour mix used).
Sent in by Karen in San Francisco, CA. Adapted from the pound cake recipe in Thoughts For Food, dated 1946.
Ingredients
1 cup butter
2 cups sugar
4 egg yolks
4 stiffly beaten egg whites
3 cups gluten free flour mix (I like Sylvan Border Farms)
1 cup milk
1½ tsp xanthan gum
2½ tsp baking powder
1 tsp vanilla
Directions
Cream butter and sugar, add yolks, and beat. Sift flour and xanthan gum. Add gradually two and one-half cups flour alternately with milk. Add remaining flour with baking powder and stir only until smooth. Fold in stiffly beaten whites. Bake in buttered loaf pan at 350 degrees until done, approximately 1.5 hours.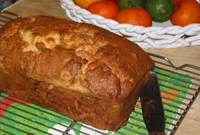 Do you have a gluten-free recipe to share? Email it to alison@surefoodsliving.com along with (if you wish) your name and a picture of either the food you created or of you or your family.