Recipe Share: Easter fun!
Posted on March 16th, 2008 by Alison
Read 3 Comments - Add Your Own »

These Easter ideas were sent in by Gina Clowes of the Allergy Moms website and newsletter. Thank you Gina!
---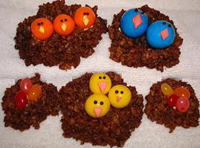 Bird Nests
1/2 bag of Enjoy Life Chocolate Chips
Candy decorations
Crumble bars in bowl.Melt chips in microwave and combine with bars. Spoon onto waxed paper and form into 8 nests. Fill with candy decorations. We used gum balls for birdies with safe taffy cut outs for beaks.
* You can substitute Rice Krispie Treat mix for the NoNuttin bars.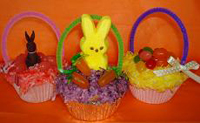 Easter Basket Cupcakes
Your favorite cupcakes
Safe frosting
Coconut or pearl sugar colored as desired
Pipe cleaners
Marshmallow or chocolate bunnies
Jelly beans
Frost safe cupcakes and dip them in colored coconut or pearl sugar. Add jelly beans or bunnies. Top with a pipe cleaner for the basket handle.
We used orange Mike and Ikes topped with green coconut for carrots and Marshmallow peep bunnies!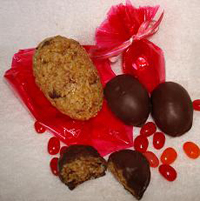 Chocolate Dipped Eggs!
Rice Krispie Treats
Egg Molds*
Enjoy Life Chocolate Chips
1 Tablespoon vegetable oil
Prepare your favorite Rice Krispie Treat mix. Allow to cool for a few minutes; then spoon mix into egg molds of any size and place in freezer to set.
Melt one bag of Enjoy Life Chocolate Chips with one Tablespoon of vegetable oil. Release the "eggs" from their molds. Some will prefer the Rice Krispie eggs just like this. For the chocolate lovers, dip the "eggs" into the melted chocolate mix. Place on wire rack to set.
When completely cooled, wrap in cellophane and tie with ribbon! (See photo at the top of the newsletter.)
* You can use fancy Wilton molds but we used regular plastic eggs of all sizes for our molds!
---
Do you have a gluten-free recipe to share? Email it to alison@surefoodsliving.com along with (if you wish) your name and a picture of either the food you created or of you or your family.Read more about Recipe Share.