Recipe Share: Marshmallow Eggs
Posted on March 14th, 2008 by Alison
Read 1 Comment - Add Your Own »

Just in time for Easter! Sent in by Melisa K. Priem, author of the cookbook 8 Degrees of Ingredients in which all recipes are free of the top 8 allergens and are also gluten-free.
This recipe is gluten-free, dairy-free, egg-free, soy-free, nut-free, fish-free (unless fish-derived gelatin is used) and no corn syrup!
---
Marshmallow Eggs
These are an easy and fun way to personalize marshmallows or add a unique touch to any holiday.
Ingredients
1 cup powdered sugar
2/3 cup cold water
1 tablespoon gelatin, plus 2 teaspoons
1/2 cup water
2 cups sugar
1 cup colored sprinkling sugar (or choice of store-bought sprinkles)
Instructions
Line a baking sheet with parchment paper. Lightly sprinkle powdered sugar over pan.
In the bowl of an electric mixer, add 2/3 cup cold water. Lightly sprinkle the gelatin over the water. Allow the gelatin to soften, about 5 minutes.
Meanwhile, combine the 1/2 cup water with 2 cups of sugar over medium heat. Continue to stir until the sugar is dissolved.
Allow the sugar mixture to boil and reach a temperature of 238 degrees F. Remove from heat and add to the gelatin. Using the mixer's whisk attachment, whip the mixture on a medium-high speed until soft peaks form, about 10 minutes.
Immediately transfer whipped marshmallow into a piping bag or prepared large plastic bag with the corner snipped off. Gently squeeze the bag and pipe out an oval egg (or other desired shape) onto the prepared pan. Immediately sprinkle with colored sanding sugar before piping the next egg. Allow the eggs to set before moving, about 10 to 15 minutes.
Recipe Notes
Marshmallows: Prepare a 9×13-inch baking dish by lining with parchment paper. Sprinkle powdered sugar on top. Instead of piping, pour entire batch of whipped marshmallow into the dish and spread. Sprinkle additional powdered sugar on top and allow marshmallow to set. Cut into squares.
Pipe the whipped marshmallow directly onto a cupcake in lieu of frosting. Sprinkle with colored sugar or stick under the broiler of your oven for 2 minutes for a toasty marshmallow treat.
Pipe the whipped marshmallow directly onto a birthday cake to spell out recipient's name or best wishes!
Serves: 12. Preparation Time is 10 minutes. Inactive Preparation Time is 30 minutes. Cooking Time is 10 minutes.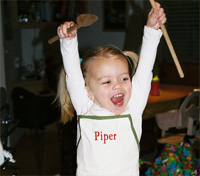 Melisa's daughter
---
Do you have a gluten-free recipe to share? Email it to alison@surefoodsliving.com along with (if you wish) your name and a picture of either the food you created or of you or your family.