3 appliances that make allergy-free cooking easier
Posted on April 30th, 2008 by Alison
Read 7 Comments - Add Your Own »
I love my appliances. I'm not one of those people that has wacky appliances like a Salad Shooter or a snow-cone maker (although summer is coming…). The ones I do have are essentials in the kitchen and make cooking allergy-free foods so much easier. Here are my 3 favorites: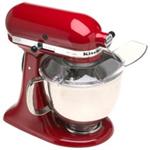 1. KitchenAid stand mixer
I really don't know how anyone can bake without a KitchenAid stand mixer. I'm not trying to be a snob — I know they are not cheap, but I have used other stand mixers and hand-held mixers, and it's not fun. It's frustrating. And if you have to bake a lot because you and your family have food allergies, then it is really worth the investment. I have the Artisan Series which I prefer over the Professional Series because it has a tilt-head. If you're not in a hurry to buy one, keep checking for special sales at Amazon or other stores!
2. Rice Cooker
Last year I got a rice cooker in a family gift exchange. My old one that I carted around with me from apartment to apartment was permanently crusted and stained and every time I made rice I had to scrape it off the bottom of the pan and then let the pan soak for a day to get all the rice out of it. When I received the Cuisinart rice cooker, I embarked on a whole new way to use a rice cooker. It is smaller in size than my old one (this is a good thing) and has a non-stick surface. I make rice in it of course, but also other gluten-free grains such as quinoa, buckwheat, millet, and oatmeal! I love that I don't have to worry about watching something on the stove — the rice cooker automatically shifts from Cook to Warm when done so I can make it ahead of time.
3. Toaster Oven
I don't even have a regular toaster. Have you ever tried to put gluten-free bread in a toaster? Chances are you had to fish it out with a fork because gluten-free bread slices are usually smaller than "regular" bread. With a toaster oven, you don't have to worry about that. Also, if you share appliances with non-allergy-free people, at least with a toaster oven you can lay down aluminum foil or use a separate oven tray.
I not only like the toaster oven for its ability to toast things of all shapes and sizes, but also for its bake setting. Need to bake just a couple Trader Joe's gluten-free peanut butter cookies, a few Brazilian cheese breads, or some Ian's allergy-free chicken nuggets? No need to turn on your big oven and wait a long time for it to get hot enough — a toaster oven heats up much faster and is perfect for baking small-sized things (I once made the mistake of trying to bake a loaf of gluten-free bread in the toaster oven and misjudged how high the bread would rise — oops! The loaf of bread was pretty much stuck in there and I had to decapitate it to get it out!)
What are your favorite appliances?