Recipe Share: The Ultimate Banana Bread
Posted on April 10th, 2008 by Alison
Read 3 Comments - Add Your Own »

This banana bread recipe was sent in by Leslie who has one son who must be gluten-free and one son who must be dairy-free.
---
The Ultimate Banana Bread
Ingredients
1 1/4 cup all-purpose gluten-free flour (I use Bob's Red Mill)
1/2 cup teff flour (if unavailable, try buckwheat flour)
2 teaspoons baking powder
3/4 teaspoon salt
1/4 teaspoon baking soda
1 teaspoon xanthan gum
1 – 1 1/2 cup mashed ripe banana (2 or 3 bananas)
1/2 cup applesauce
1/2 cup milk of choice
1 teaspoon vanilla extract
1/2 cup butter, margarine, or shortening
1/2 cup white sugar
1/2 cup brown sugar
2 large eggs
1 cup chopped walnuts or pecans (optional)
Directions
Preheat oven to 350°F. Grease and flour a 9 1/4 x 5 x 2 1/2 inch loaf pan or line a 12 count muffin pan with paper baking cups. Whisk together flour, baking powder, salt, baking soda and xanthan gum in medium bowl. In small bowl, mix mashed bananas, applesauce, milk and vanilla. Using electric mixer, beat butter, margarine, or shortening in large bowl until creamy. Gradually beat in sugar. Add eggs 1 at a time, beating well after each addition. Beat banana mixture and flour mixture alternately into shortening mixture in 2 additions each. Stir in nuts. Transfer to loaf pan, or divide evenly between muffin cups.
Bake until toothpick inserted into center comes out clean, about 1 hour and 10 minutes for a bread loaf, and about 25 minutes for muffins. Cool 5 minutes. Turn loaf out or place muffins on rack to cool completely.
Makes 1 loaf, or 12 large muffins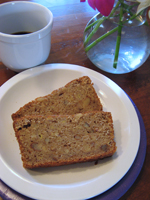 ---
Do you have a gluten-free recipe to share? Email it to alison@surefoodsliving.com along with (if you wish) your name and a picture of either the food you created or of you or your family. Read more about Recipe Share.