Could you have celiac disease?
Posted on May 30th, 2008 by Alison
ADD A COMMENT »
Some common symptoms of Celiac Disease include:
Recurring bloating, gas, or abdominal pain
Chronic diarrhea or constipation or both
Unexplained weight loss or weight gain
Pale, foul-smelling stool
Unexplained anemia
Bone or joint pain
Migraine headaches
Behavior changes/depression/irritability
Vitamin K Deficiency
Fatigue, weakness or lack of energy
Delayed growth or onset of puberty
Failure to thrive (in infants)
Missed menstrual periods
Infertility – Male/Female
Spontaneous miscarriages
Canker sores inside the mouth
Tooth discoloration or loss of enamel
Anyone who can identify with one of more of the symptoms listed may have Celiac Disease and should consult a doctor for more thorough testing, which typically starts with a blood test.
In addition, anyone who has been diagnosed or has a family member who has been diagnosed with any of the following may also be at risk:
Type 1 diabetes
chronic fatigue syndrome
fibromyalgia
irritable bowel syndrome
eczema
Sjögren's syndrome
Peripheral neuropathy
thyroid disease
Dermatitis Herpetiformis
osteoporosis
Thank you to Mary's Gone Crackers and the Celiac Disease Foundation (CDF) for releasing the above checklist of symptoms in recognition of National Celiac Disease Awareness Month in May. More than three million Americans are estimated to have Celiac Disease, yet 97 percent of people go undiagnosed. The number of Celiacs is in fact greater than those with Crohn's Disease, Cystic Fibrosis, Multiple Sclerosis and Parkinson's Disease combined.
Celiac Disease is one of the most common genetic conditions in the world that often goes undiagnosed because it is a multi-symptom, multi-system disorder. Symptoms vary and are not always gastrointestinal.

"We are proud to partner with Mary's Gone Crackers to help raise awareness of Celiac Disease, said Elaine Monarch, founder/executive director, Celiac Disease Foundation. "We hope this checklist will encourage people to consult their healthcare professionals for proper diagnosis."
"Celiac Awareness Month is the perfect opportunity to shed some light on this widespread condition, and we are pleased to help educate people that there may be a name for the symptoms they thought they had to live with," said Mary Waldner, co-founder of Mary's Gone Crackers. "I spent years trying to find the source of my digestive pain and fatigue and my son's migraines. I want others to know that they can achieve real health when they avoid gluten containing foods."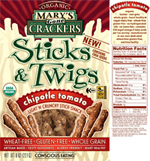 Mary was inspired to create Mary's Gone Crackers after she was finally diagnosed with Celiac Disease and had scoured store shelves for tasty foods that she and her son could enjoy. Mary's Gone Crackers are delicious and nutritious — I highly recommend them! Whenever I serve them to guests, they have a pleasantly surprised look on their faces! I am looking forward to trying their new Sticks & Twigs snacks, coming this summer (hopefully I will have a sneak preview here!)
Learn more about celiac disease and its symptoms.