Get your allergen-free summer treats ready
Posted on May 22nd, 2008 by Alison
Read 5 Comments - Add Your Own »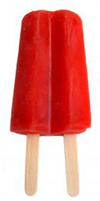 Maybe I'm jumping the gun a little bit on summer, but we just had a record-breaking heat wave here in northern California (it was 97 degrees in San Francisco one day!), which prompted me to start stocking and making summer treats. When you are a kid with food allergies, running out to the ice cream truck and picking out anything you want from the pictures on the side isn't an option. So, what's a mom to do?
Luckily, there are a still a lot of refreshing treats that are okay for kids with food allergies. Here is some helpful information and summer treat ideas for when summer officially begins!
1. Popsicles & frozen fruit bars
Most commercial frozen pops are free of the top 8 allergens. They are mainly sugar and/or corn syrup and food coloring, which I usually try to avoid, but sometimes it's nice that my kids can have what the other kids are having for once! Here is the list of Popsicle brand treats that are probably okay (check the ingredients for your individual needs). You can find a healthier kind of frozen pop made of fruit juices at the grocery store. I like Breyer's Pure Fruit bars. I also like to make my own pops using fruit juice – check out all these fun pop molds!
The company that makes Good Humor, Klondike, Breyers and Popsicle has the following allergen statement on their website:
Unilever Ice Cream is a member of the Food Allergy & Anaphylaxis's Network and the Food Allergy Resource and Research Program. Upon the advice of these consumer and industry groups we do not provide a list of flavors that do not contain gluten. There is always a concern with any product list that it would be replicated and the end recipients would not receive updates that would be required with a formulation change. The safe approach recommended by these organizations is to read the label each time a purchase is made.

Recognizing that reading food labels can be time-consuming and tedious, we wish to encourage you in your daily effort to read all food labels, as it is the best way for us to ensure that you receive the information you need to make an informed and confident choice.

We do want to reassure you that we work closely with all of our ingredient suppliers, including packaging, to verify all ingredient components. This includes those ingredients in natural flavors, colors and spices that would be a concern to persons with sensitivity to gluten. We ensure that this information is then included on our product's ingredient label as "flour" or "wheat flour etc." If a source of gluten were used in a product, it would be clearly listed. Some of our flavorings may contain ethyl alcohol, however, because the alcohol is distilled, they would not pose a threat to anyone who is gluten intolerant.
2. Snowcones & slushes
Most snowcones that you find at fairs and amusement parks are free of the top allergens. Usually they are made with crushed ice and a flavoring syrup (corn syrup). Even some packaged snow-cones are okay. Want to make your own at home? Here are some snow cone supplies. Otherwise, you can just make a slush in your blender by blending ice with juice. Serve it in a fun cup with a straw or spoon, or in the real snow cone cups with straws.
3. Ice cream treats
Most ice cream treats, including Fudgesicles, are off-limits for kids with dairy allergies, but there are some dairy-free options. Soy Dream and Rice Dream both have ice cream bars (but none are both gluten-free and dairy-free). Rice Divine makes ice cream bars and sundae cups that are both gluten-free and dairy-free (contain soy). Turtle Mountain makes soy-based dairy-free ice cream bars and ice-cream sandwiches (not gluten-free), and a dairy-free and soy-free fudge bar.
If you can't find any of those, make your own ice cream sandwiches: take 2 homemade baked (gluten-free) cookies or packaged cookies and put ice cream (or dairy-free ice cream) between. Make a bunch ahead of time, wrap with with plastic wrap and put in the freezer.
Make ice cream cones at home with gluten-free cones! You could even bring your own cone to your local ice cream shop and have them scoop into it. Boy would your kid be excited! Here are the 3 different kinds of gluten-free cones (all are dairy-free also):
4. Smoothies
Smoothies are always a yummy, healthy option that is refreshing for summer. Here are some allergen-free smoothie ingredient ideas — using a blender, combine them as you like! If you use some amount of frozen fruit, you don't need to add ice.
fresh and/or frozen fruit: bananas, strawberries, mango, peaches, blueberries, raspberries (some kids don't like the little seeds in their drink)
juice or milk (cow, soy, rice, almond, hazelnut, coconut)
rice protein powder or vitamin powder
There you go! Now all you have to do is stock up on sunscreen and you are ready for summer!
Any other ideas? Feel free to add a comment below!