Bars for people with food allergies – Part 2
Posted on June 19th, 2008 by Alison
Read 7 Comments - Add Your Own »
A while back I told you about some of the gluten-free and allergen-free snack bars on the market. I received feedback and product samples of some more so I thought I would let you know about them! Feel free to leave a comment and let everyone know what you think.
Trio Bars by Mrs. May's

light and crunchy
comes in four flavors: Blueberry, Cranberry, Strawberry, and Tropical
from their website: "All Mrs. May's products are vegan, non-GMO, cholesterol free, dairy free, wheat free, Gluten free, 0 Trans Fat and contain no artificial colors or flavors." Note: these do contain nuts and seeds.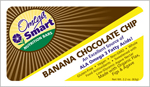 dense and chewy, not too sweet
gluten-free, dairy-free, egg-free, some flavors are also soy-free, some flavors contain nuts
from their website: "ALL Omega Smart bars are easily digested, help to manage blood sugar, contain over 2,000 mg. of Omega-3's and offer an ideal ratio of complex carbohydrates, proteins, and healthy-fats"
comes in many flavors, including Cinnamon Apple, Banana Chocolate Chip and Apricot Almond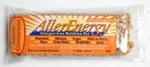 from their website: "no peanuts, no gluten, no eggs, no milk or dairy, no soy, no tree nuts, no shellfish, no corn"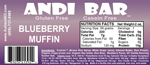 gluten-free, casein-free, soy-free, corn-free, GMO-free, free of artificial flavors, colors & preservatives
from their website: "nutritionally balanced, ANDI bars add vitamins and minerals to your child's diet. Flax seeds add a delightful crunch, and your kids won't even know they are getting vital Omega fatty acids! Each 2 oz. bar contains a whopping 15 grams of protein!"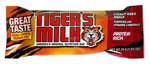 all are gluten-free except Peanut Butter Crunch; all contain milk, soy, peanuts and tree nuts
note: these bars contain high fructose corn syrup, but if you don't care about that… I have heard that they taste good!