Win a Laptop Lunch System!
Posted on June 27th, 2008 by Alison
Read 69 Comments - Add Your Own »
I was sick of using plastic bags. I felt guilty creating such waste every time I made a lunch for my daughter to take to preschool, plus I didn't think the lunch looked very appetizing — piles of plastic that had to be opened to get the food out. I thought, "there must be a better way" and lo and behold, I spotted it: a lunch box that opened up and had compartments for the different foods. I only saw it from afar at a playground, but it caught my eye and I never forgot it. "I must get one of those lunch systems" I thought to myself, and then, there it was again — my sister had a Laptop Lunch System for each of her boys (ages 5 and 7). She gave my girls each a set as a gift.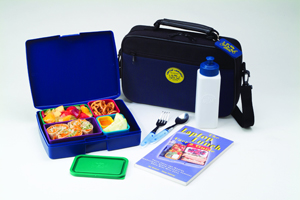 It was a gift to me, really, as it made my life easier and made my daughters excited about their lunch! And no more plastic bags.
Here's why I like Laptop Lunches so much as a mom:
It comes as a whole system, with carrying case (that looks like a laptop computer case, hence the name Laptop Lunch), water bottle and fork and spoon. I didn't have to add a thing to start packing lunches.
You can choose from various color options. Kids love color!
It forces you, the lunch-maker, to be creative because there are 4 little compartments to fill, 5 with the little dipper one (it's actually kind of fun!)
It is so easy to wash!
Here's why I like Laptop Lunches so much as a mom of kids with food allergies:
Allergic children have to bring their own lunches ALL the time, so anything that makes it easier to pack a lunch is great.
Most prepackaged foods are filled with allergens — think packs of cheese and crackers, little packs of goldfish, peanut butter and ritz crackers — so these aren't an option to throw in a lunch. These little compartments make it possible to put in healthier foods and serve them like you would a meal at home, like beans or olives or fresh corn or gluten-free pasta salad.
Food looks so appetizing when served this way, the allergic kid will not feel he's missing out on a thing!
Here's a lunch I made recently. It's nothing fancy, but somehow looks a lot yummier than if it were in plastic bags.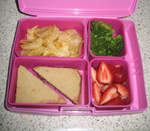 Don't have kids? Want to eat healthier? The Laptop Lunch is great for adults too. There are some mellow color options if you don't think hot pink will work in your office!
You can win a Laptop Lunch System!
This is very exciting… one lucky reader will receive a complete Laptop Lunch System, courtesy of Obentec, Inc., the company that makes them. Just leave a comment below with an idea you have for what to put in the Laptop Lunch before July 4 and I will randomly select one of you as the winner.
For more information and to purchase Laptop Lunches, visit laptoplunches.com
CONTEST UPDATE: A winner has been announced… go here to see who the lucky gal is!