Pamela's recipe contest
Posted on July 29th, 2008 by Alison
ADD A COMMENT »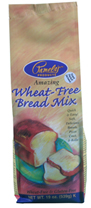 If you are a regular reader of this site, you probably know that I am a big fan of Pamela's Amazing Wheat-Free Bread Mix. It tastes delicious, it is flexible with regard to allergens (things can be made dairy-free, egg-free, etc.), and it is versatile. I have used the gluten-free bread mix to make more than just bread — I have made excellent pizza and foccacia too.
Now it's your turn to experiment with her bread mix and come up with a new creation! You have until August 31st to submit your recipe to Pamela's 2008 Greatest Gluten-free Recipe Contest. One grand prize winner will receive a $200 gift certificate to a kitchen supply store and their recipe published by Pamela's Products. Two runners up will each receive a $100 Gift Certificate to a kitchen supply store and the publication of their recipe. But the biggest prize of all, I'm sure, will be getting to eat your yummy creation and share the recipe with those who really appreciate it!
You might want to check the recipes they already have to get ideas and make sure you come up with something new.
I'm not sure if I am going to enter the contest… need to come up with an idea and some time (always a challenge!) I'll let you know if I do. Anyone else going to try it?