Gluten-free art supplies for school
Posted on August 18th, 2008 by Alison
Read 8 Comments - Add Your Own »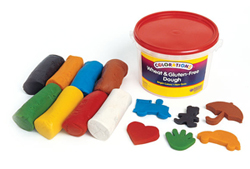 It's back to school time and time to make sure that the products used in the classroom are safe for kids with food allergies! The main concern with classroom supplies is gluten or wheat because wheat flour is a common ingredient in craft supplies.
Some kids cannot make contact with wheat at all. For other kids, it is an issue of eating gluten (as in little kids eating play dough) or gluten getting on the hands and then the hands go in the mouth or the hands touch food.
Here are the things to watch out for:
PLAY DOUGH
Most play doughs contain wheat, including PLAY-DOH brand. PLAY-DOH's website says it does NOT contain peanuts, peanut oil, or any milk byproducts. Crayola Dough also contains wheat, but does not contain peanuts, shellfish, fish, tree nuts, eggs, milk or latex .
Here are some wheat and gluten-free play dough or modeling clay options:
PAPER MACHE
Paper mache and wallpaper paste and that smelly paste we used to use in school (that some kids liked to eat!) contain wheat flour.
Here are some wheat-free alternatives to traditional paper mache:
Make your own paper mache with this recipe from Planet Pals:
Ingredients: Glue, water, paper
Directions:
Mix two parts white glue with one part warm water. Stir well and the Paste is ready to use. Now you need paper-newspaper works well! Dip each piece of paper in the liquid mixture and apply it one piece at a time to form your shapes.
Claycrete Instant Papier Mache – made from 100% pure paper pulp, you mix with water and knead it and model it.
PAINT
Most paints are free of food allergens, but Elmer's Finger Paints contain wheat and oat products.
OTHER ART STUFF
Another thing to watch out for is dry pasta used for art projects (again, because some kids like to eat it). If you know about it ahead of time, you can substitute gluten-free pasta in almost any shape, or use dried beans or beads or whatever else you can think of instead.
Now parents, get that bulletin board or refrigerator ready for all those beautiful works of art!