Dine at Dosa Restaurant in SF for gluten-free
Posted on September 10th, 2008 by Alison
Read 1 Comment - Add Your Own »
I discovered dosas, an Indian version of a crepe, on my honeymoon to India. Traditionally served for breakfast in South India, it was one of my favorite foods there. Check out the picture of me when I was first served a dosa for breakfast in India… it was so big! And I was so happy!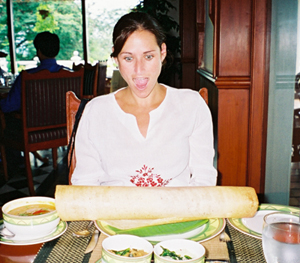 When I heard about a restaurant named Dosa in San Francisco, I recalled that happy moment and I was excited to experience it again. Dosa Restaurant specializes in South Indian cuisine, which uses mainly rice, rice and lentil flours, coconut, chutneys and seafood (if near the coast). South Indian cuisine is naturally gluten-free, except for a few items which are easy to avoid.
Before going to the restaurant, I checked its website as I always do before I go out to eat. I was impressed to see that they have a "chart for special dietary needs" which lists every item on the menu and whether it contains nuts, dairy, eggs, and wheat. (The chart is available upon request in the restaurant.) Only 5 things on the entire menu contain wheat! UPDATE 03/09: There are 10 items that contain wheat.
It was an unusually hot San Francisco night and the restaurant was hot too. I was looking pretty hot myself in a sundress (when can you ever wear a sundress in San Francisco?), and the spicy food made things even hotter!
Everyone else in our party wanted to do the tasting menu which had 4 courses of smaller-sized selections, but my husband (who lived in India for 2 1/2 years) declared that he was really hungry and wanted to have a lot of different things, and since it was his birthday we were celebrating, we totally overdid it by ordering 2 appetizers of vada (fried lentil dumplings), 2 different types of dosas, and 2 curry dishes, all regular-sized portions… for the 2 of us!
Here is one of the dosas… big enough?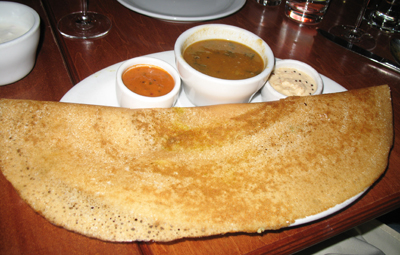 Needless to say, we were stuffed by the end (a good stuffed, not a gluten-bloated-stuffed) and took home some leftovers.
It was a delicious meal and the dosas, and the dipping chutneys and sambar (a stew for dipping) were "very authentic" according to our Indian friend who joined us for dinner. I highly recommend this restaurant for anyone who wants to try South Indian food, and especially for anyone who is gluten-free!
If you live in Marin County and don't feel like driving all the way into the Mission District of San Francisco, there is a South Indian restaurant right on 4th Street in San Rafael called Om South India Cuisine, where you can find dosas and other South Indian specialties.
Want to learn more about gluten-free Indian cuisine? Read My journey to India (and a diagnosis)