Swirlz gluten-free cupcakes make people happy
Posted on September 17th, 2008 by Alison
Read 1 Comment - Add Your Own »
I was in Chicago last weekend for a friend's wedding. The couple got married downtown in a beautiful ceremony and reception at The Casino Club. The dessert buffet was amazing with mounds of ice cream, mini creme brulees, and towers of cupcakes. Cupcakes that I can't eat, of course. But don't feel sorry for me… I had my own gluten-free cupcakes from Swirlz Cupcakes in Chicago.
Earlier that day, my husband and I made a special trip to find Swirlz. Besides attending the wedding, it was the only thing on our agenda for the weekend (that, and sleeping in, since we left the kids at home!)
I really didn't know what to expect, and when we walked in we saw this: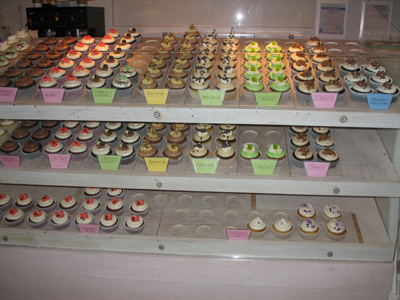 No, not all of these are gluten-free, but every day they have at least 2 flavors that are, a regular flavor and a gluten-free surprise flavor. When I was there they had 3 — vanilla on vanilla, chocolate on vanilla, and Red Velvet. Other surprise flavors are Chocolate Peanut Butter, Chocolate Grasshopper Mint, Lemon and Chocolate Chip.
The cupcakes not only looked fabulous, but tasted fabulous too. The cake was moist and delicious — there is no way someone would know it was gluten-free. The frosting was light, like whipped cream, which I loved. Not too sweet, but just sweet enough. My husband agreed that they were great and helped himself to more than one!
Here is the 6-pack we left with — aren't they gorgeous?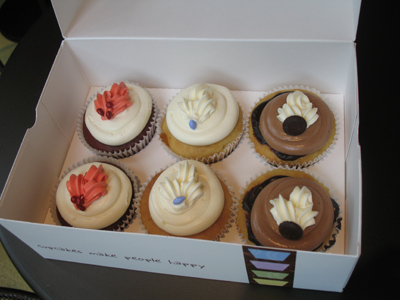 And here is the outside of the box, which I altered a little: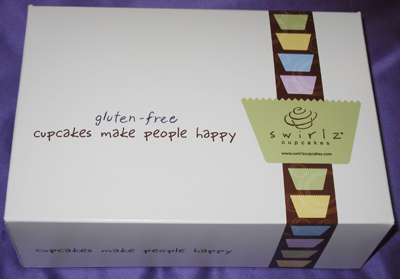 Want to go there? Swirlz Cupcakes is located at 705 West Belden in the Lincoln Park area of Chicago. They are open Monday through Saturday from 10am to 7pm. There is only one location right now. I am hoping their second one will be in San Francisco, so they can make me happy more often! 🙂