Food Allergies Blog Carnival
Posted on October 16th, 2008 by Alison
Read 4 Comments - Add Your Own »
Welcome to this edition of the Food Allergies Blog Carnival! For readers who don't know what a blog carnival is, think of it like a magazine of articles that gets published on a schedule. Every two weeks, we food allergy bloggers submit an article to be published by the host blogger, and this week I get to be the host.
So here are all the wonderful articles that have been sent in…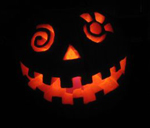 Check out these Halloween-themed articles!
Need some new recipes? Try these:
These articles address peanuts:
For the corn-allergic (this allergy seems to be growing!):
Are you prepared for a food allergy emergency? Read on…
What to do about those birthday parties?
It's always exciting to find gluten-free pizza!
That concludes this edition of the Food Allergies Blog Carnival. Submit your blog article to the next edition of living with food allergies carnival using the carnival submission form. Go Dairy Free will be the host in 2 weeks. Past posts and future hosts can be found on the blog carnival index page.