Get $5 in Enjoy Life coupons until Nov. 7
Posted on November 4th, 2008 by Alison
Comments Off

on Get $5 in Enjoy Life coupons until Nov. 7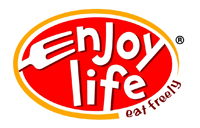 Looking to save a little money? Aren't we all these days!
If you are a fan of Enjoy Life products (my family's favorite is the Snickerdoodles), you can print coupons for 55 cents and 75 cents off right from home!
Or, you can get $5 worth of coupons by joining their online, allergy-friendly Halloween party on Facebook or MySpace. If you are not a member of these social networking sites, you can still get the coupons by emailing your photo, name and address to enjoylifeenf@gmail.com. Hurry, the celebration ends Friday, Nov. 7th!
How to participate on Facebook or MySpace:
Log into your Facebook OR MySpace account to become a fan of Enjoy Life (search for Enjoy Life Foods).
Email a photo of your child in their Halloween costume that can be posted to the page, along with your name and address to enjoylifenf@gmail.com.
Enjoy the party and receive $5 in coupons.