Gluten-free gingerbread house recipe (dairy, soy and egg-free too!)
Posted on December 9th, 2008 by Alison
Read 10 Comments - Add Your Own »
I know many of you are searching for a way to make a gingerbread house that is gluten-free. Well, I have to admit I have never done it, mainly because my kids haven't been old enough to make it worth all the effort. But this year, I may actually attempt it. (UPDATE: I did it — see the wonderful results of my gingerbread house!)
I am thrilled that Pamela (she always comes through!) has created a way to use her bread mix to make the house. Not only is it gluten-free, but it is dairy-free, soy-free (you can use palm shortening) and can be made without eggs too, using egg replacer. (The only challenge will be the icing if you can't
have eggs. I am still researching how to do this. If anyone can help, please let me know!)
So, without further ado, here is the recipe: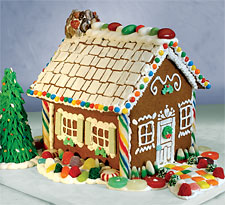 Pamela's Best Gingerbread House
Ingredients:
1 bag Pamela's Wheat Free Bread Mix (Do not use enclosed yeast packet)
1/2 teaspoon salt
2 teaspoons ground cinnamon
1 teaspoon baking powder
2 teaspoons ground ginger
1/3 cup unsalted shortening
1/2 cup sugar
1 egg (or egg replacer for 1 egg, prepared)
1/2 cup mild or light molasses for lighter cookies or dark molasses for darker cookies
1 to 2 Tablespoons water
Use heavy duty stand mixer, dough is heavy.
In a medium bowl, combine Pamela's Wheat Free Bread Mix with salt, baking powder, cinnamon, and ginger. Whisk together thoroughly. Do not use the yeast packet in this recipe.
In the bowl of a stand mixer, cream shortening with sugar. Add egg, mix to incorporate. Add molasses, mix to incorporate. Add dry ingredients, mix to incorporate. Add water. Continue mixing gently together until dough comes together. If needed, add an additional tablespoon of water. (Dough prepared with egg replacer may require more or less water.)
Wrap dough in plastic wrap and refrigerate for 1 hour before rolling out.
Use template (see below) to cut out house pieces. Roll dough out at 1/4 inch. Cut out one house piece at a time on parchment using template. Leave the cookie on parchment and pull away excess dough from around cookie. Trim excess paper around cookie to about 1-inch, then transfer cookie on parchment to baking sheet. Multiple pieces can fit on one baking sheet. Remove templates from cookies before baking.
Bake cookies twice to dry enough for building a house. Bake at 350° for 10 minutes. Then turn off oven leaving cookies inside with door shut. Leave them to cool completely in the heat of the oven (3 to 4 hours). When cool, remove cookies from oven, preheat oven again to 350°, then bake for an another 10 minutes. Turn off oven with cookies inside with door shut, leave until cool. Construct the house using Pamela's Royal Icing (see recipe below) made with Pamela's Vanilla Frosting Mix. Decorate using candies stuck into the icing.
Pamela's Gingerbread House Template (You need Adobe Acrobat to read these, for a free download of Adobe Acrobat Reader click here.)
Gingerbread House Front & Back
Gingerbread House Roof
Gingerbread House Sides
Pamela's Royal Icing
Mix one bag Pamela's Vanilla Frosting Mix with 1 teaspoon Cream of Tarter and two egg whites. For salmonella concerns, substitute equivalent of 2 eggs with dried egg white powder* or meringue powder* prepared. Mix on high until icing thickens and stiff peaks form. Icing will harden when dry. Great for gingerbread houses! Terrific for using to stick candies* on cookies! For the truly creative, try adding food color* for colored icing.
*Consumers concerned about gluten should check that all flavorings and additional ingredients added to recipes are gluten-free.
Is a house too hard? How about gingerbread men instead?
Thank you Pamela!!