Gluten-free finds at the Fancy Food Show
Posted on January 21st, 2009 by Alison
Read 4 Comments - Add Your Own »
Yesterday I attended the Fancy Food Show in San Francisco. My mission: to find new gluten-free products and let you know about them! While most of the food companies at the show aren't really up to speed on the whole gluten-free thing, I did find some wonderful new products to share with you. This is not everything and will be doing some follow-up articles with some more products, but here are the ones I found most exciting that are or will be available in major markets.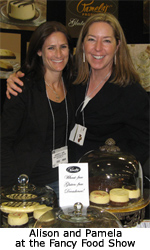 Pamela's Cheesecakes, Chocolate Cake and Coffee Cake
Pamela's Products won me over with her new New York Cheesecake with a gluten-free ginger cookie crust. They will be available in 3 inch or 6 inch rounds, and either refrigerated or frozen. Other cheesecake flavors are: White Chocolate Raspberry, Zesty Lemon, Hazelnut, and Agave Sweetened New York Cheesecake. Also coming soon: Chocolate Fudge Cake with Chocolate Frosting and Coffee Cake with Nut  Topping. All are gluten-free and my guess is that all will be delicious. Ingredients in the New York Cheesecake are: Cheesecake – Philadelphia Cream Cheese, Organic Sugar, Eggs, Organic Sour Cream, Natural Vanilla. Cookie Crust – Rice Flour Base (Brown Rice Flour, White Rice Flour, Tapioca Starch, Sweet Rice Flour, Xanthan Gum), Molasses, Brown Sugar, Organic Evaporated Cane Sugar, Non-hydrogenated Palm Oil, Eggs, Ginger Spice, Natural Vanilla Flavor, Cinnamon, Baking Soda, Sea Salt, Cloves, Ammonium Bicarbonate.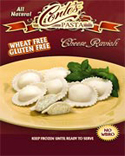 Conte's Gluten-Free Pasta
While Conte's Pasta isn't new to the east coast, here in the west we hopefully will be able to find their gluten-free stuffed pastas in stores soon. Gluten-free ravioli, stuffed shells, gnocchi (also dairy-free), pierogis (there is a dairy-free flavor) and lasagna are just some of the items they make. They are a frozen product that come in a bag or, new in their product line, a microwave meal! I tasted the ravioli at the show, and it was delicious. I can't wait to try the rest! Ingredients in the Cheese Ravioli: Rice Flour, Cornstarch, Tapioca Dextrin, Xanthan Gum, Eggs, Water, Salt, Canola Oil, Guar Gum, Sodium Alginate, Filling: Whole Milk Ricotta Cheese, Romano Cheese, Eggs, Salt, Parsley.
Let's Do Organic's Gluten-Free Ice Cream Cones

It's only January, but I can't wait to try these new gluten-free ice cream cones from Edward & Sons' brand. Not only are they gluten-free, but dairy-free and soy-free too — a dream for an allergy kid! You should be able to find these in Whole Foods. Request them if you can't. Ingredients in the cones are: Potato Starch, Cornstarch, Demerara Sugar, Water, Expeller-Pressed Palm Oil, Salt, Cocoa Powder, Xanthan Gum, Baking Soda.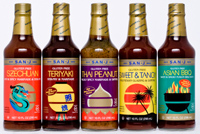 San-J Gluten Free Cooking Sauces
Known in the gluten-free community for their wheat-free tamari, San-J has finally made a gluten-free version of their Asian sauces. Look for: Szechuan, Teriyaki, Thai Peanut, Sweet & Tangy, and Asian BBQ, all with "GLUTEN FREE" on the label. I didn't get to taste any of them, but I have high hopes! Ingredients in the Gluten-Free Teriyaki Sauce: Tamari Soy Sauce (Water, Soybeans, Salt, Alcohol), Water, Organic Sugar, Honey, Sake (Water, Rice, Salt), Apple Cider Vinegar, Garlic Puree, Plum Juice Concentrate, Torula Yeast, Canola Oil, Spices, Arrowroot, Xanthan Gum.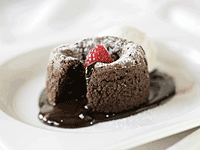 Gluten Free Chocolate Souffle
The founder of 3 Senses Gourmet created a chocolate souffle that happens to be gluten-free. If you are a chocolate lover, this dessert is amazing — a flourless chocolate cake with molten chocolate spilling out of the center. Look for the Chocolate Souffle and the Caramel Chocolate Souffle (yum!) in the frozen section. Note: the Chocolate Chip Brioche Bread Pudding is NOT gluten-free.
Look for more articles coming soon featuring great gluten-free products from the Fancy Food Show!