Could Chinese herbs be used to treat asthma and food allergy?
Posted on February 24th, 2009 by Alison
Read 8 Comments - Add Your Own »
One of the most difficult things about food allergies is that there is no sure treatment and the only way to avoid a reaction is to avoid the food that causes it. As a parent of a child with severe food allergies, I can only hope that a cure will be found so that I don't have to worry for the rest of her life about what would happen if she ate the wrong thing. Ah, the freedom that would bring.
The good news is that there is progress being made in the current research that is being conducted on food allergy. There has been some progress made in using desensitization to treat peanut allergy. This means that peanut-allergic kids were given little doses of peanut to increase their tolerance to it. All the kids were eventually able to tolerate at least 10 peanuts! This is indeed progress and larger studies will now be conducted.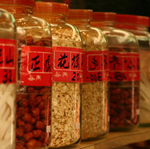 I was especially intrigued by an entirely different approach to treating asthma and food allergy — one that uses Chinese herbs to prevent a food allergy reaction. Researchers led by Dr. Xiu-Min Li,  Associate Professor of Pediatrics and Director of Center for Chinese Herbal Therapy for Allergy and Asthma at Mount Sinai School of Medicine, developed two different herbal formulas.

One is called Anti-Asthma Herbal Medicine Intervention (ASHMI). In the first studies, it was found that patients showed improved lung function after taking the formula. They also found that the herbs proved safe for those taking the formula. Longer-term studies need to be conducted still.
The other herbal formula is called Food Allergy Herbal Formula 2 (FAHF-2) and is made up of 9 herbal extracts. When used on mice allergic to peanuts, this formula completely blocked peanut-induced anaphylaxis, and protected the mice from having a reaction for 9 months after the treatment (a quarter of their lifetime)! Studies using the formula are now being conducted on humans.

Dr. Xiu-Min Li points out in a news article about her that food allergy is rare in China and that asthma is far less common than in the United States, and perhaps that is due to the fact that China has used plants, which may be more effective than the drugs used here, to promote health for thousands of years. I hope her work proves she is right! You can read more about how the Herbal Remedy Could Halt Peanut Allergy.
Related reading:
How many outgrow nut allergies?