Eating gluten-free, allergen-free at fast food chains
Posted on February 21st, 2009 by Alison
Read 47 Comments - Add Your Own »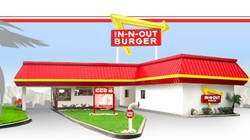 I almost never eat fast food. I used to — I remember going through the drive-through at the local Jack-in-the-Box and ordering 3 Super Tacos! They were delicious, in a I-don't-want-to-know-what's-in-it kind of way. Now I do know what's in it, and I'm not allowed to eat it anyway since most fast food has gluten in it. Luckily we have In-N-Out Burger here in California, which is in a league of its own when it comes to fast food — and great for people who can't have gluten!
Even for people who don't normally eat fast food, there are those times when you're on the road, or in a new place, or when you're in the airport, and fast food restaurants are the only choice or the most convenient choice. I know there are a lot of people who do rely on fast food for a quick meal or when traveling, so to make it easier for you, I am putting all the allergen information for some of the most popular fast food chains here in one place.
Rather than listing out everything you can and can't have, since fast food products and ingredients may change, I have written a little summary and compiled links to the pages of the websites where you can find all the information you need. That way, you can quickly access the info when you need it and print it out before you hit the road!
In-N-Out Burger
Thank you In-N-Out Burger for making real food, but fast! For the celiacs or gluten-intolerant out there, you can order your 100% beef burger "protein style" and it will come wrapped in a lettuce leaf rather than on a bun. You won't see it on the menu, but you can ask for it and they won't even look at you funny. The french fries are made from REAL potatoes and nothing else, and are fried on the spot in 100% cottonseed oil. They only make french fries so no worry about cross-contamination. The spread they use on the burger is gluten-free and dairy-free (it is mayo-based so it contains eggs). Read more about In-N-Out's Food Quality. Find an In-N-Out Burger location.
McDonald's
After facing lawsuits in 2006 over the presence of wheat and milk in their french fries after declaring them gluten-free and dairy-free, McDonald's issued a statement saying that although wheat and milk were used as starting agents in the flavoring, there was no residual protein, hence no allergen, left in the final product. Since that time, however, McDonald's lists their french fries as containing both wheat and dairy. So can you eat it? I don't know. Some people with celiac say they eat them with no problem. Some say they have a reaction. You also need to watch out for cross-contamination, as some McDonald's use a shared fryer with gluten-containing foods, and some use a dedicated fryer for only french fries. For the rest of the menu, see McDonald's Nutrition Information.
Burger King
According to Burger King's Allergen List (link no longer works as of 6/6/10 — see update below), their french fries are made in a dedicated fryer and do not contain wheat. Of course, always check to make sure that the fryer really is dedicated. Don't get your hopes up for anything else on their menu. At the time of this writing the only other things that seem gluten-free (wheat is listed as an allergen) were a plain beef patty, one kind of salad, apple fries, some condiments and drinks. If you read all the crap ingredients they put in their foods, you might be glad you have a disease that prevents you from eating it!
UDPATE 6/6/10: I could no longer find an allergen list for Burger King, but they have a Gluten-Sensitive List. The french fries are on it, but says that they may be fried with gluten-containing foods.
Taco Bell
Tacos are usually a food that a gluten-intolerant person can have… not so at fast food restaurants! If you should venture near a Taco Bell, do NOT eat a taco. Order a tostada, rice and beans, or these other "Suggestions for Wheat and Gluten Sensitive Individuals"  from Taco Bell's website:
Fiesta Taco Salad (order Chicken instead of Beef; order without the shell and without the Red Strips)
Express Taco Salad (order Chicken instead of Beef)
Zesty Chicken Border Bowl® (order without the Zesty Dressing and without the Red Strips)
Southwest Steak Bowl (order without the Creamy Jalapeno Sauce)
For more information, read Taco Bell Food Allergens and Sensitivities and Taco Bell Ingredient Statement.
Jack in the Box
It's a little disconcerting that a fast food place offers such a diverse menu — from hamburgers to tacos to fish pita snacks to a teriyaki bowl! Okay, judgment aside, if you must eat here for some reason, you will need to look at two different lists: the Product Build (link no longer works as of 6/6/10) which shows you the pieces that make up one dish (like "Regular Bun, Mayo-Onion Sauce, Lettuce, Bacon Slices, Chicken Patty"), and the Ingredients List, which lists the specific ingredient in each of the pieces. If you can't gluten, I can't help you too much with this one. I hope you like salad. No croutons.
Wendy's
I always liked Wendy's for their baked potatoes. Wendy's has a list of Items Without Gluten and a Nutrition Guide which includes allergen information for egg, fish, milk, soy, and wheat.
Carl's Jr.
Go for the Low-Carb Six Dollar Burger and french fries for gluten-free. The fries are also dairy-free, but you will need to check to see if they use a dedicated fryer. Check the Carl's Jr. Ingredient Guide and the Allergen Information for more info.
Kentucky Fried Chicken
If you can't eat gluten, don't even walk in the door unless you like vegetables that are overcooked in hydrogenated oils and chemicals. Yum. But don't eat the potatoes — they may have wheat depending on the region. Again, better to not even walk through the door. For other allergies, consult the KFC Allergen and Sensitivites Guide and the KFC Ingredient List.
Subway
Even though this is a sandwich shop, there is a pretty big selection of gluten-free salads and the most of the lunch meats are gluten-free. To find out which ones are safe for you, see the Subway Allergen Chart and the Subway Ingredient Guide.
Have you eaten at any one of these establishments? Let us know how your experience was!