Gluten-free bakeries in California
Posted on February 9th, 2009 by Alison
Read 14 Comments - Add Your Own »
One thing I miss is the freedom to walk into a bakery or cafe, peruse the baked goods in the glass case — over sized muffins, crumble-topped squares, spirals of cinnamon, scones flecked with some kind of berry — and… pick one. "No, I changed my mind. I'll have that one instead." Take it to go, or for here, and nibble at it as I sip my coffee or walk down the street to my next destination. That kind of experience abruptly disappeared when I started a gluten-free diet.
But little by little, bakers are bringing back that loving feeling by offering gluten-free goodness in those glass cases. Some have created bakeries dedicated to serving the gluten-free community. Others have "regular" bakeries but have begun to recognize the need to offer gluten-free items to their customers. Either way, I believe that we will see more and more gluten-free in the bakeries of the future.
And even now, you can find gluten-free treats at these California bakeries (in alphabetical order by name)…
ALMOND GLORY
Almond Glory gluten-free products are manufactured and can be purchased in Le Crumbs Bakery in Van Nuys, CA. Made using almond meal, products include: pizza crust, foccacia bread, brownies, muffins, scones, bagels and danishes. The bakery follows strict gluten-free guidelines for the manufacturing of Almond Glory products. Le Crumbs Bakery also makes specialty made-to-order gluten-free cakes. You can also order online.
AZNA GLUTEN FREE
Azna Gluten Free is located in Cameron Park. At their retail bakery, you can find waffles, brownies, pizza, scones (I love the maple pecan), cinnamon rolls, bread and rolls. They also offer cakes made to order. All products are gluten-free and vegan (dairy-free and egg-free). Their products can also be found at retail locations in northern California.
BEWITCHING ELEGANCE
Bewitching Elegance, located just south of San Francisco, creates made-to-order decadent cakes, including gluten-free wedding cakes. According to a blog post about gluten-free wedding cakes, they seem to have a very good understanding of cross-contamination. Minimum order for any kind of cake is $250, and for once gluten-free cakes don't cost more than the others!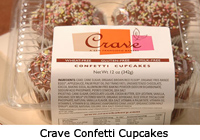 CRAVE BAKERY
Everything made by Crave Bakery in San Francisco is gluten-free and dairy-free. Crave is a wholesale bakery, meaning that you can't walk in the door, but you can find their delicious products at nice grocery stores throughout California. Products include chocolate cake, monster cookies, cupcakes, lemon tart and brownies. Crave is also now offering made-to-0rder gluten-free and allergen-free wedding and event cakes!
FARMER'S KITCHEN CAFE
Farmer's Kitchen Cafe, located in Davis right off the I-80, not only offers gluten-free and casein-free baked goods, but is a full restaurant serving soups, salads, pastas, pizzas and sandwiches (ask for gluten-free bread). You can purchase breads, bagels, pies, cheesecake, english muffins, hamburger and sandwich rolls, sugar cookies, chocolate chip cookies, brownies, chocolate dipped cookies and special occasion cookies and cakes that are made fresh daily. You can also find fresh homemade gourmet dried pastas, frozen ravioli, organic soups, gourmet tamales, fresh ready to heat entrees, quiche, pizza, handmade tortillas and ravioli in organic marinara sauce. There is even pasta dough and pie dough in the freezer case for you to take home and make yourself. Their products are now also being offered in Nugget markets.
GLUTEN FREE GOURMET
Gluten Free Gourmet is a wholesale bakery that is just getting started in Saratoga (south of San Francisco).  Products include cookies, brownies, cakes, pies, pizzas, cheesecakes, muffins, soups and breads. If you are a carrot cake fan, you should try this one — it is delicious. Contact Gluten Free Gourmet to find out where to purchase products.
GRINDSTONE BAKERY
Grindstone Bakery is a small artisan wholesale bakery located in Santa Rosa in Sonoma County. They bake their bread in a wood-fired brick oven. All their breads and cookies are wheat, yeast and dairy-free and they have a line of gluten-free ones also that are made in a  separate facility using a separate, dedicated stone mill that prevents contamination with gluten-containing grains. Their products can be purchased online or found at stores around the Bay Area.
MARIPOSA BAKING COMPANY
Mariposa Baking Company is a dedicated gluten-free bakeshop in Oakland. Walk in and treat yourself to a variety of freshly baked goods or a slice of pizza hot out of the oven. You can also find some of their baked goods at stores all around California. Read about my first trip to Mariposa.
MUFFIN PHYSICS
Muffin Physics is a gluten-free and allergen-free (no wheat, dairy, egg, soy, peanut, tree nut, sulfite, or yeast) wholesale bakery in San Diego. Their products can be found in retail stores in the San Diego area.
SWEET ADDICTIONS
Sweet Addictions Bakery, located in Montclair, CA, is a regular bakery with a wide variety of gluten-free bakery items that can be made to order. They have a small front retail space for walk-in customers, and they try to have at least one gluten-free item available.  They are a shared facility but say, "we take our responsibility to our gluten-free friends very, very seriously" by having dedicated pans/utensils, quarantining their GF baking ingredients, and thoroughly cleaning preparation surfaces to avoid cross-contamination. Their gluten-free brochure looks fabulous, especially if you have a special gluten-free cake you want to order.
THE ART CAFE AND BAKERY
The Art Cafe and Bakery, located in Atascadero, offers freshly baked gluten-free (and dairy-free, egg-free and nut-free) items every day — but they sell out fast! Baked goods include cookies, banana bread, cinnamon raisin bread, frosted brownies, bread, dinner rolls and more. Bakery items can also be ordered online for pick up at the cafe or to ship to you.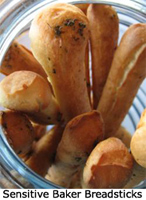 THE SENSITIVE BAKER
Located in Culver City near LA, The Sensitive Baker is a 100% gluten-free and dairy-free bakery that offers a variety of baked goods, including breadsticks, crusty rolls, pizza crusts and sweet treats. They also do special holiday things like gingerbread houses and decorated cookies.
Do you know of another gluten-free bakery in California? Email me and let me know!