Gluten-Free Indian Samosas
Posted on February 23rd, 2009 by Alison
Read 3 Comments - Add Your Own »
Yesterday I made an Indian meal in honor of all the Oscars I knew that Slumdog Millionaire was going to win. I was rooting for the film since a) my husband lived in Mumbai for a couple of years, and b) we spent our honeymoon in India, and c) it was the only Oscar-nominated movie I saw this year! I worked in the kitchen for hours, which was fine since there was the Oscar pre-show to watch, and the Oscar pre-pre-show before that.
I had decided to take on the challenge of making gluten-free samosas as part of the Adopt a Gluten-Free Blogger event, for which I chose another gluten-free blogger's recipe and I made it and now I am writing about it. The event is a way for bloggers to discover other bloggers and try a new recipe. I chose an Indian Samosa recipe by Seamaiden from Book of Yum. If you don't know this blog yet, you should check it out for great recipes! It's good for multiple allergies too since there are a lot of dairy-free and egg-free recipes.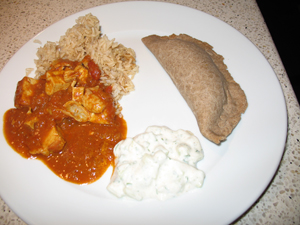 Honestly, I thought I was biting off more than I could chew with this recipe, but I really wanted to eat samosas. I loved them before going gluten-free and I thought my husband would really enjoy them too (he also eats gluten-free). You know what? I did it! And I have to say, they were really tasty and satisfying. Of course, they are not just like the samosas I remember (pretty hard to duplicate it gluten-free) but I thought they were really good. It was a time-consuming process, but I think that's because I was reading the directions over and over again to make sure I was doing it right. The photos and technique for making the samosas were an awesome help. If I made them again, I could make them a lot faster.
I made the filling recipe almost exactly, but I made half, which was perfect for the amount of dough. I didn't put in the serrano chili, and used both cayenne and paprika — I think if you used all cayenne it is spicy enough. I made the dough from the scratch recipe using my mixer (instead of a Cuisinart) and used buckwheat flour instead of teff. My dough needed 2 more tablespoons of water to roll out without crumbling. It made 8 pretty big samosas. You could easily make them smaller and make more. The technique for rolling out and folding the samosas is brilliant! I would like to make this dough again and fill it with something else — maybe even make a fruit turnover!
For the rest of the dinner I made Chicken Korma (totally cheated and used a Korma simmer sauce from Trader Joe's — it is delicious!), rice and Raita (using this raita recipe). My husband and I both thoroughly enjoyed it as we watched our movie 😉 take all the honors. It was a winner winner chicken dinner!
Book of Yum's Gluten-Free Dairy-Free Egg-Free Baked Indian Samosa Recipe