Sign up for Camp Celiac now!
Posted on February 2nd, 2009 by Alison
ADD A COMMENT »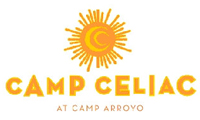 Registration is open for Camp Celiac 2009, a gluten-free camp at Camp Arroyo in Livermore, California! Amazingly, because of generous support by the Taylor Family Foundation and several other organizations, each camper only has to pay $25 and provide their own transportation!
Camp Celiac is an overnight camp offering fun activities including rock wall climb, challenge/ropes course, boating, swimming, sports, arts & crafts, and nature . The camp is for kids ages 9 to 17 years old who have celiac disease or are otherwise restricted to a gluten-free diet. Campers ages 15, 16 and 17 years may volunteer (if they choose) as junior counselors, and assist the adult volunteers.
All meals and snacks will be gluten free (no need for your camper to ask, "is this gluten free?"). Elaine Taylor, of the Taylor Family Foundation, is herself on a gluten free diet and is excitedly planning a delicious gluten free menu. The kitchen will be cleaned twice before the kids arrive.
Here are the details:
Camp dates: July 26-31, 2009
Registration starts: February 1, 2009
Campers Ages: 9-17
Cost: $25 registration fee