Celebrating Easter Gluten-Free and Allergen-Free
Posted on March 30th, 2009 by Alison
Read 3 Comments - Add Your Own »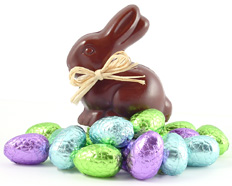 UPDATE: See my new article for 2010: Easter candy tips!
If you have celiac disease, gluten intolerance or food allergies, you too can have a worry-free Easter! Here are some candy lists, tips and recipes:
Gluten-Free and Allergen-Free Candy & Treats
Cadbury:
According to customer service representative on 3/30/09: Cadbury Creme Eggs and Cadbury Caramel Eggs are NOT gluten-free. They contain glucose syrup derived from wheat — this is a new formula they are using. Usually, glucose syrup if derived from wheat is considered gluten-free, but Hershey will not claim these products as gluten-free. In addition, they contain natural flavors which Hershey says they also cannot guarantee are gluten-free. Cadbury products here in the U.S. are manufactured by Hershey. These same Cadbury products in the UK are considered gluten-free according to their website.
Just Born:
From Just Born website: "Our gluten free brands are: MIKE AND IKE® Brand Candies, HOT TAMALES® Brand Candies, PEEPS® Marshmallow Candies, PEANUT CHEW® Brand candies, TEENEE BEANEE® Jelly Beans and JUST BORN® Jelly Bean." Other top 8 allergens will be listed on label.
Jelly Beans:
Here are some more resources for finding or making your own safe Easter treats:
Tips for Celebrating Easter with Food Allergies: