Gluten-Free Cooking Spree in Washington D.C.
Posted on March 24th, 2009 by Alison
ADD A COMMENT »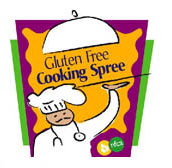 If you're gluten-free and live near the Washington D.C. area, go to the Gluten-Free Cooking Spree! I attended this event in San Francisco last year, and not only did I get to eat delicious gluten-free food, I also got to connect with other gluten-free people from around the area. It was a fun, social and yummy event!
Here are the details for the D.C. event:
Watch top chefs, doctors and reporters compete to make the best gluten-free dish!
The National Foundation for Celiac Awareness invites you to participate in the Gluten-Free Cooking Spree, an event that joins together the medical and lifestyle aspects of celiac disease to educate both doctors and chefs about celiac disease and the gluten-free diet.
Top chefs, doctors and reporters will be put on teams of three. Each team will have one chef, one doctor and one reporter. Together, the doctor, chef and reporter will work to create the best gluten-free dish.
Attendees will sample the food cooked by the chefs and enjoy a large assortment of other gluten-free food options. Come hungry! All attendees will take home a fabulous goodie bag filled with treats from a variety of gluten-free vendors.
A three-person panel will judge the recipes and award a prize to the winning team.
Enjoy gluten-free hor d'oeuvres, desserts,  beer and wine.
All food will be gluten-free!
WHEN:
Friday, May 01, 2009 from 6:30 PM – 9:00 PM
WHERE:
Hyatt Regency-Bethesda
One Bethesda Metro Center
7400 Wisconsin Avenue
Bethesda, MD 20814
COST:
Early Bird Admission (tickets purchased before Apr 15, 2009) = $50
This event was sold out in 2008 so we encourage you to register early. Use your confirmation as proof of purchase when you arrive at the Hyatt Regency-Bethesda on May 1st.
General Admission after Apr 15, 2009  = $75.00
Register