Nana's No Gluten Cookie Giveaway
Posted on April 15th, 2009 by Alison
Read 4 Comments - Add Your Own »
If you are a fan of Nana's No Gluten Cookies, Cookie Bars and Cookie Bites, or you are looking to add a new gluten-free snack to your pantry, now's your chance to win some Nana's!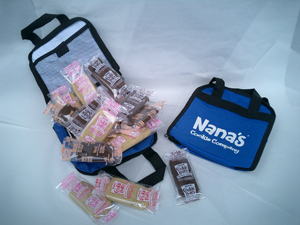 Nana's Cookie Company has set up a contest for Sure Foods Living readers to win a Nana's Cookie Company Lunchbox filled with Nana's No Gluten Cookies, Cookie Bites and Cookie Bars — an approximate retail value of $30.00. You have until noon PST on May 31, 2009 to enter. There will be four winners selected by random drawing on June 5, 2009.
How to enter:
Click here: Sure Foods Living page on the Nana's website and fill out the form. That's it! Good luck!

What I think about Nana's…


My daughters are fans of the Nana Banana and Berry Vanilla flavor No Gluten Cookie Bars, and I feel good about giving them this treat with all natural ingredients and no refined sugar (although they are sweet!). Plus, they are dairy-free, egg-free and soy-free which works with my daughter's other food allergies. The texture is very soft and moist and kind of reminds me of cookie dough — which is a good thing!